10 ATV And Side-By-Side Safety Tips You Need To Know
The keys to the safest UTV ride aren't too hard to learn—and we're here to help you get the most out of your UTV/ATV experience. If you're wondering how safe are side by sides, it comes down to the rider, and what they know. We've put together a list of the most important safety tips for riding UTVs and made sure to give you everything you'll need for UTV safety.
1. Dress Appropriately with the Right Safety Gear
First things first, for the safest UTV experience, make sure you have the right gear to ride. Long pants, a long-sleeved shirt, a pair of strong and sturdy boots, and a DOT-approved or ECE-approved helmet are the absolute minimum requirements; if you're looking for extra protection, a pair of gloves can protect you from brush and debris while you ride.
An excellent helmet is the most important piece of anyone's kit. For the safest ATV/UTV helmet to fit properly, it should be comfortable, and the best quality UTV helmets are approved by the Department of Transportation. In some situations, they should also be certified by SNELL for the highest level of atv safety.
Depending on how you plan to spend your time on the trails, you can also upgrade your UTV safety equipment with things like an outer chest protector, motocross leggings, motocross boots, knee protectors, and more. Not only does it look more impressive, but it's also packed with padding and extra reinforcements that help you stay safe when hitting the red line.
Goggles are a great accessory to have. When you're kicking up dirt, mud, or anything else, they can shield your eyes from debris such as twigs, dirt, dust, and wind. On top of that, there are tons of awesome-looking goggles to choose from, ranging from sporty and affordable to technical and bad-ass. Goggles keep your eyes protected and let others know you came to play.
Get all the apparel for your safest UTV ride here and don't forget to pick up some Gator Waders while your at it.
2. ATV Age Requirements
The ATV and UTV age requirements vary state by state. If you're curious whether your younger family members or friends can ride, you should search results for your state/county specifically. At SideBySideStuff, we want everyone to have the best and safest UTV or ATV experience possible, so we love when everyone looking to get out on the trails does the proper research.
3. Keep the Passengers (and commotion) to a Minimum – or outside of the SxS
The safest riders are the ones who don't get distracted. The kinds of distractions that cause issues are from having too many passengers distracting you; the rate of injury in a motor vehicle goes up by over 40 percent when there are two or more passengers with you.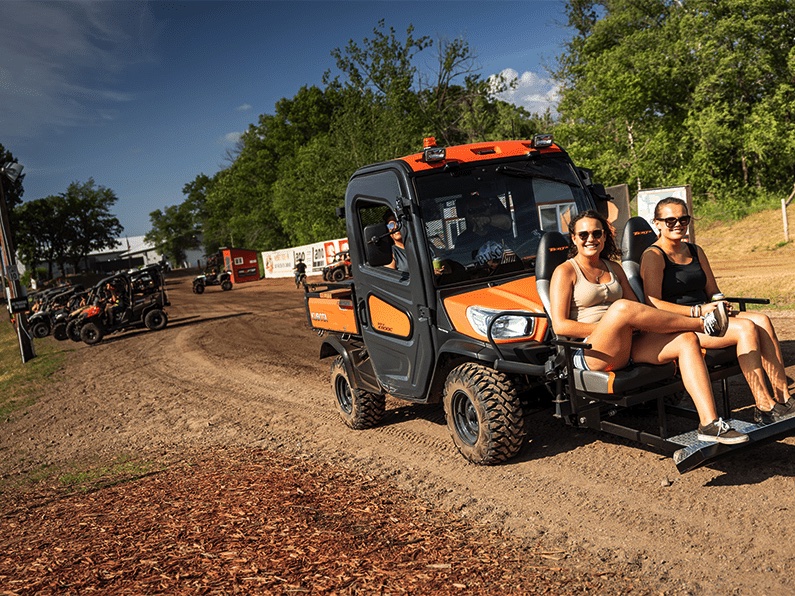 4. Ride Within Your Ability
It's no joke when you're putting down serious RPMs on the trail. It's also hard to know how fast you actually can go in a way that keeps an eye on UTV safety. At SideBySideStuff.com, we've seen some of the best runs in the world—and we've seen some of the best runs in the world go wrong.
It doesn't take a genius to know when you're riding harder than you're used to, but it takes a real champ to back it down off the gas when you know it's getting a little too crazy. Are ATVs dangerous? Only if you ride dangerously. Everyone deserves a good time on the trails, so it's important to ride in a way where you feel comfortable, safe, and in the zone.
5. Vehicle Maintenance Is Key to UTV Safety
We've all seen it—somebody swamped on the side of the mud pit, or waiting, wishing they had prepared better. The safest UTV is one that's been properly serviced. Working on your bike is fun, but neglecting it is not. With intake, exhaust and engine parts from SideBySideStuff.com, you can not only keep your buggy going, you can improve its performance to keep you on the trail.
6. Keep Your Limbs In
The best trail rides end with you making it back safe. Here's the thing, though: your friends may always have your back, but trees are not very forgiving.
Keeping your hands, feet, and head inside the UTV is the safest place for them; when you're riding, it's crucial that you keep your limbs inside. We want to keep you riding—and sometimes it's the simple stuff that counts.
If you're curious about the safety of your UTV, the first thing you might worry about is do side-by-sides tip over? Just like cars or ATVs, UTVs only tip over when there is a driver error. Nobody's saying that makes you a bad driver, but there is a finite amount of lateral force any suspension can take. A good tip is to think about an SUV—they can be top heavy if you drive with reckless abandon.
7. Don't Be A Hero
We all loved The Fast and the Furious, but there's no reason to pretend to be Dominic Toretto out there (Vin Diesel's character). Ride the trail the way it's made to be ridden; there's nothing more embarrassing than getting stuck trying to whip it on a trail where you're out of your depth.
As fun as hitting wheelies or burnouts on your ATV or UTV may be, the most important safety guidelines for these vehicles aren't wrong—driving smart doesn't mean driving flashy.
8. Keep Your Eyes On The Road
One of the most important aspects of UTV and ATV safety is staying focused on what's in front of you. There's no reason to text, call, or shoot video if you're driving, and there's no reason to change the song. With dozens of options for Bluetooth Speakers for your UTV that work with your phone's voice command, you don't have to take your hands off of the wheel for anything. Bluetooth is perfect for things like "OK Alexa, Next Song," Check out these accessories that help you keep your eyes on the track:
If you're looking to improve your UTV safety by upgrading to a Bluetooth sound system, you can get a fully redone set with speakers and all, or add a single speaker or soundbar. Our staff pick for the best UTV sound system is the MTX Audio Overhead Sound System you can find on our site here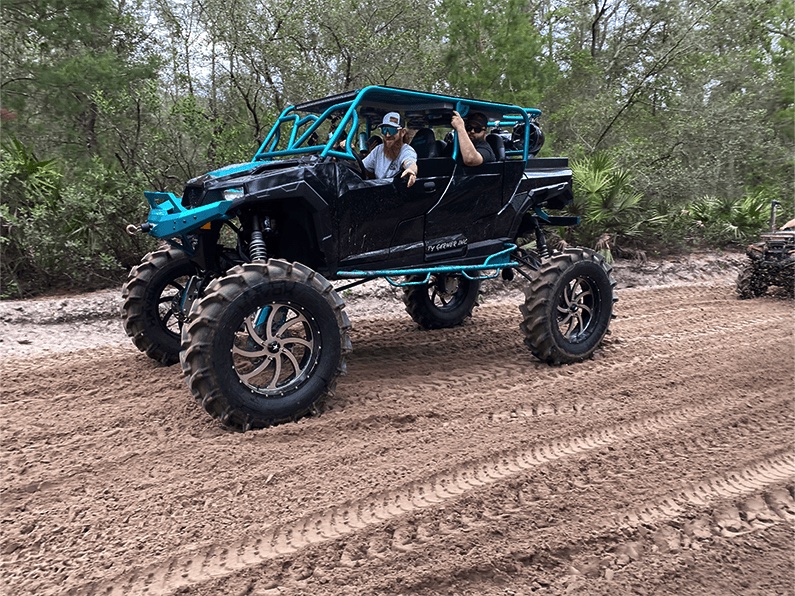 9. Purchase the Right Vehicle for You
Some vehicles can haul more, some vehicles haul more ass. But, with top speeds around eighty for high-performance vehicles, a novice rider might have trouble handling a more powerful engine. Knowing what vehicle you need is hard, but your local dealer will help you find the right fit. When you've found the best, safest UTV or ATV for you, SideBySideStuff.com has you covered for all the parts and accessories that take your riding to the next level.
No matter how you choose to ride, following these safety tips for UTV and ATV riding are key to having a good time and staying safe. For any and all of the best safety equipment available, Side By Side Stuff has you covered.
10. Always Bring a Friend
We're not here to get grim, but it's gotta be said. God forbid you get stuck—like really stuck—you're gonna want a friend to help. Anyways, isn't the best ride you've had better when you share it with a friend?
If you do have to ride alone, a stable cell connection, reliable radio, or Satellite phone can be the difference-maker for you.
No matter what, as long as you're focused on UTV safety when you ride, SideBySideStuff.com is here for you. Don't forget to follow us on social media, and keep connected to learn everything you need to know about Side by Sides, ATV safety, and the best parts and accessories available.