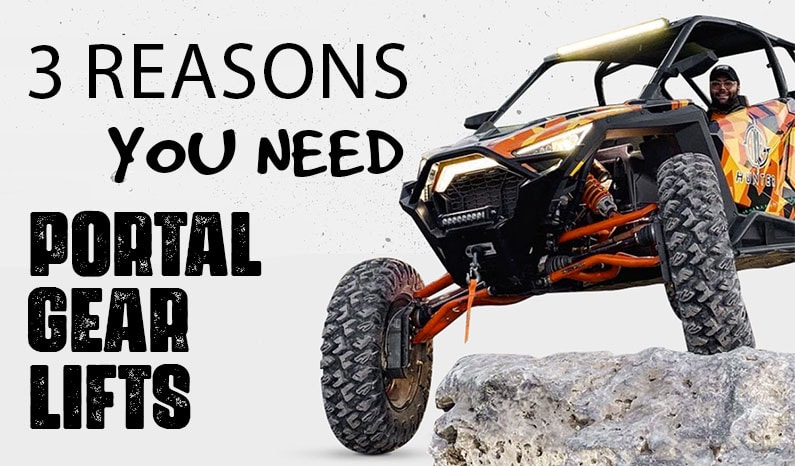 What are three good reasons to add a portal gear lift to your ride? Mud, mud… and more mud. Mud bogging is one of the most popular ride styles in the Powersports community. As more and more enthusiasts take to the biggest bounty holes the planet offers, portal gear lifts are surging in popularity.
And while playing in the sticky icky is an adrenaline-charged adventure, side-by-side portals also serve a huge performance lift in the rock crawling community. This aftermarket upgrade lets riders drop it down low to get to an all-time high.
What is a portal gear lift?
Portal gear lifts are a multi-purpose upgrade. First, you get some ground-clearance gains while inheriting a gear reduction. There are tons of benefits that come with this hella rad augmentation.
Benefits Include:
Ability to run larger tires: Adding larger tires allows riders to experience the thrill of challenging mud pits and obstacles. This also opens the door for more targeted tread patterns for superior traction on specific terrain conditions.
Offers torque gains: An increase in torque improves engine power and acceleration, even from a full stop. The torque gains also provide more efficient engine performance, especially when towing or tackling deep bounty holes. The bottom line, you'll inherit a smoother performance.
Allows factory steering geometry to stay intact: The partnership between the suspension and steering components affects the alightment, otherwise known as steering geometry.
Are all portals alike?
Not all UTV portals are alike. When choosing the right lift, you have two factors to consider: the height and the build.
Starting with the height, High Lifter portals include four-, 6-, and 8-inch lifts depending on how high you want to go. So, how do you determine the height of the add-on? It boils down to preference and ride style.
The bigger the lift kit, the gnarlier the obstacles can be. However, it's important to keep in mind that larger vehicles have limitations. Some trails and ride areas do not accommodate larger machines.
High Lifter portals also come in single and dual idler builds. Adding a second idler allows the torque load to be more efficiently spread from one gear to another.
Why Choose High Lifter Portal Gear Kits? 
What's great is that this kit doesn't entail a factory gear replacement. Instead, it mounts to the wheel hub and the axle. So, the portal offers reduction while improving power using the gears within the box. As a result, all the magic happens at the wheel.
When comparing portals to purchase and install, you'll want to know everything included in your kit, and what to look for in a quality portal gear lift. Here are the ins and outs of a High Lifter kit: gearbox, gaskets and seals, a backing plate, a rotor, and gears.
Gear Box Features:
Are the strongest boxes on the market because forging produces a tougher piece of metal
Forging is more durable than both cast and billet aluminum
Extremely tough for more worry-free miles
Includes a plug for venting.
Vent kits allow an advantage of cooling, reducing premature deterioration of gaskets and seals
Gasket and Seal Features:
High-density Kevlar fiber gaskets plus no additional sealant are needed
Creep resistant plus oil and coolant resistant
Two oil seals on the spindle shaft for 100% more sealing area
Dual seals prevent water intrusion and oil leaks
True triple seal on the input shaft, which includes a wiper seal that provides a significant extra layer of protection
Backing Plate Features:
Strongest backing plates on the market
5/16″ steel plate with bent flanges for strength and durability
Welded gusset brackets and designed to factory off-set
Works with most control arms that are built to factory hub specifications
Rotor Features:
Precision-ground stainless steel rotors
Access holes for ease of assembly and disassembly
Slotted rotor allows for heat dissipation and cooling
Gear Features:
Alloy steel heat-treating process increases overall internal and external strength
CNC precision ground machining ensures excellent fitment and increased strength
Controlled gear lapping for ease of installation and a quieter performance
There is no question that the High Lifter Portals will change how you take to the mud. But, on the flip side, sending it to the top of a rock garden will take on a whole new adventure for UTV owners. So, what's not to want? Take your ride to the next level by outfitting your bike with a High Lifter Portal Gear Lift.
Shop High Lifter Portal Gear Lifts and other UTV accessories at Side By Side Stuff.