The hum of the engine — the wisps of wind between the trees — there are tons of things to hear when you're out on the trail, but the best sounds coming from our ATV or UTV should be the ones you choose! No matter if it's mudding, rock crawling, or just a casual ride through the streets, these are the top tracks to play while your foot's on the gas and your head's in the breeze.
Side By Side Stuff has been in the UTV and ATV scene for over a decade—and we've learned how to ride in style. If you're looking to get a new sense of sound out on the trails, we have you covered. You can find full sound systems or Bluetooth soundbars ready to blast whatever tunes you choose. Find them here!
Best mud riding songs
Making it through the muck and mud means high revs and high adrenaline. We've been hard-pressed to find a better playlist than this, and it's a Side By Side Stuff favorite in the office. The nostalgia is real for anyone who had a PS2 in their younger years—and the soundtrack for ATV Offroad Fury still holds up. Luckily, Spotify has the whole thing saved for you. Here are a couple of our favorite tracks:
Them Bones-Alice in Chains
Bring me down–Pillar
Let's Ride-Kottonmouth Kings
Give It All-Rise Against
You can find the full playlist here.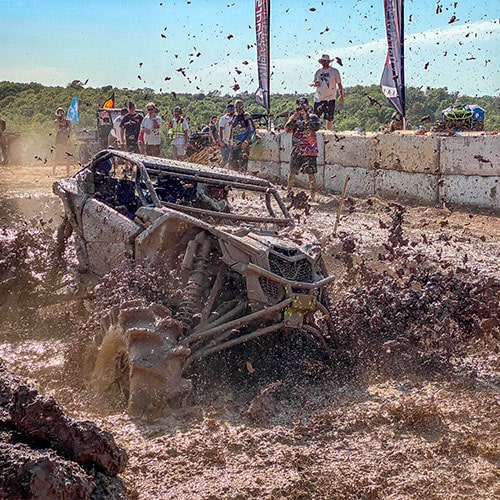 Best off-roading songs
No matter where the trail takes you, it's important to set up your side sy side for excitement. With the right playlist to ride offroad, camp, or just fool around, you're set up for a better day, and even better nights.
If you're taking on tons of different terrain, you're a little bit country, and a little bit rock n roll. This Spotify playlist for offroading is perfect to set up a campfire or go full-send to. Here are some top tracks:
Jekyll and Hyde-Five Finger Death Punch
God's Country-Blake Shelton
Holler Boys-Upchurch
Highway To Hell-AC/DC
You can find every song and stream them on Spotify here.
Best trail riding songs
If it's a long day on the trails with your UTV or ATV, there are a ton of different opinions for the best tracks to play. For the broadest playlist we can think of, the Side By Side Stuff team got together and chose our top songs for taking to the trails!
Panama – Van Halen
Ridin' Dirty – UGK
Save a Horse Ride a Cowboy – Big & Rich
Fortunate Son – Creedence Clearwater Revival
Nightmare – Avenged Sevenfold
Old Town Road – Lil Nas X feat. Billy Ray Cyrus
Red Solo Cup – Toby Keith
Down With The Sickness – Disturbed
Redneck Woman – Gretchen Wilson
Pop The Trunk – Yelawolf
Kickstart My Heart- Motley Crue
Whiskey In The Jar – Metallica
Mud On The Tires – Brad Paisley
This is How We Roll – Luke Bryan, Florida Georgia Line
Life Is a Highway – Rascal Flatts
Walk – Pantera
Rollin' (Air Raid Vehicle) – Limp Bizkit
Bad Company – Five Finger Death Punch
It's not your traditional trail riding playlist, but hell if it isn't fun to tear it up to tracks like this! At Side By Side Stuff—we don't discriminate on what you pump through your speakers. If you're having a good time, so are we!
Time to ride!
With your jams queued up, and your soundbar blasting, you're more ready than ever to find excitement on any trail. Start with these playlists, and be sure to tag us on social media with the next-best song or playlist for mudding, trails, or offroad riding!
If you're in need of a better setup for sound, look no further. Thousands of Side By Side Stuff fans trust our audio products because they're industry-leading, long-lasting, and reliable for any ride. Find the sound system you need or anything else at SideBySideStuff.com!