If there's one thing we know here at Side By Side Stuff, it's that nobody likes their riding time cut short. For folks who want to ride year-round without interruption, it's tough to take to the trails. Luckily, there's a simple solution: UTV cab heaters. Together, we'll take a look at the best UTV cab heaters for the best winter UTVs.
Whether you're out working, riding for fun, or plowing snow, these are SBSS' top picks for Gators, Defenders, Rangers, and Pioneers. But first, it's important to know how a UTV cab heater works and what makes each one special.
What Is a UTV Cab Heater?
The name almost says it all. Simply put, a UTV cab heater warms a sealed cab. Dash-mounted with simple on/off and warm/warmer controls, they're about as easy to use as it gets.
How Does a UTV Cab Heater Work?
Most cab heaters work the same way the heater in a car does. Using special heat-safe hoses, it pulls heat from the coolant lines of your vehicle. So, it's inadvertently doing your engine a favor by getting rid of the excess heat the coolant lines are trying to cool down.
Kits, like the Inferno Cab Heater come complete with all necessary installation hardware, including hoses, mounting brackets, vents, and electrical connectors. With tons of Side By Side Stuff riders reporting an hour or less for install, you'll be back on the trails nice and toasty in no time!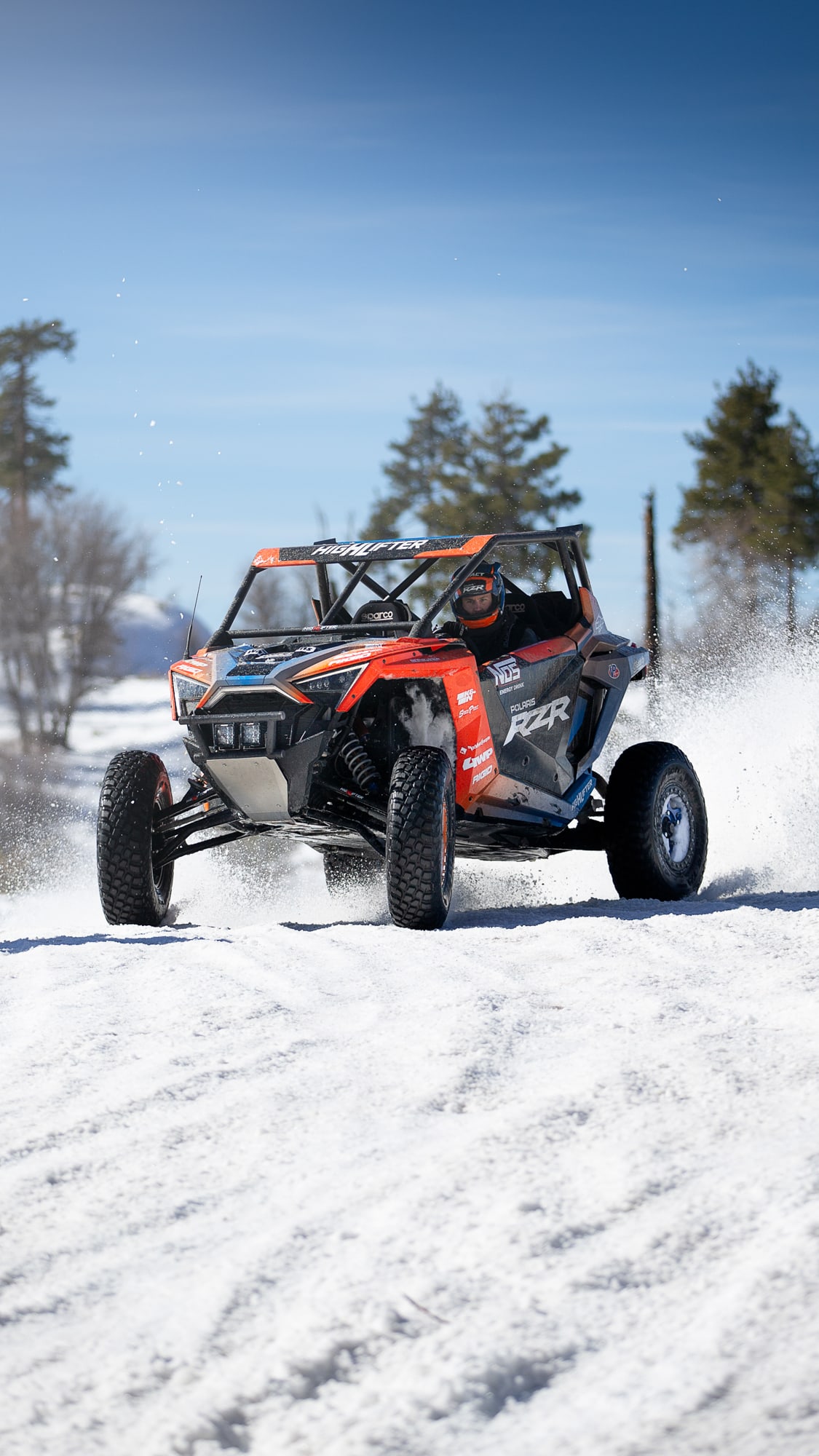 Ranking the Best UTV Cab Heaters
Now for the good stuff—we'll run down the list of the best in each category as judged by SBSS fans and staff!
Earlier, we covered the best UTVs for winter riding. Based on their utility, comfort, and enclosed cabs, these four UTVS are best in winter. So, we're keeping with the cold-season theme and running down the best cab heaters for each make/model. If you want to see the best of the best UTVs in blizzard conditions, click here.
Best Cab Heater for the John Deere Gator: Inferno Cab Heater w/ Defrost
SBSS fans almost always recommend the Inferno UTV Cab Heater with Defrost. If your Gator's got frost or humidity building up, here's your fix. And, it fits right inside your UTV's cab. Along with its impressive construction, this kit has a speed-controlling switch that installs into the OEM dash holes, so there is no need for any cutting or drilling.
You can get a complete kit with hoses, clamps, and more today, alongside a three-year manufacturer's warranty. See how much Inferno cab heaters can do for your Gator today.
BILLY's PRO TIP: If you purchase this Inferno cab heater for a four-seat UTV model, you might consider adding the Heat Extender Kit. The heat extender kit includes additional louvers on your front dash to help push air to the back of your UTV when you're done using the defrost vents. Just use the options available on the page while ordering!
Best Cab Heater for the Can-Am Defender: Ice Crusher
Some days are warmer—some days colder. That's where the three-speed variable fan comes into play. On full blast with 14,600 BTUs pumping out, this UTV heater puts in work. Not to mention, this one also has two defrost vents pointed at your windshield. Its compact size and adjustable directional vents make it a hit for Can-Am riders everywhere, but it works best in the sealed cabin of the Defender.
With air heated from inside the cab, it can recycle heat and create it. This feature is pretty nice, considering you don't want to put extra strain on your buggy's engine just because it's cold out. If you want a cab heater for your Defender, we've got free shipping available right now.
Best Cab Heater for the Polaris Ranger: Firestorm
At SBSS, we love Firestorm—their products rock because they are designed so damn well! Your Ranger will have a professional, finished OEM look after installation, with the heater core hidden conveniently under the hood.
The premium heater core's design—in partnership with European specialists in A/C and heating —makes the 13,000 BTUs extend throughout a three or 4-person cab. With four vents to maximize the defrost effect, it's a clear fan-favorite for SBSS Ranger riders.
Our top reviews always mention how easy the install was, and are thankful for the 3-year warranty they get alongside free shipping. Find your Firestorm UTV Cab Heater here.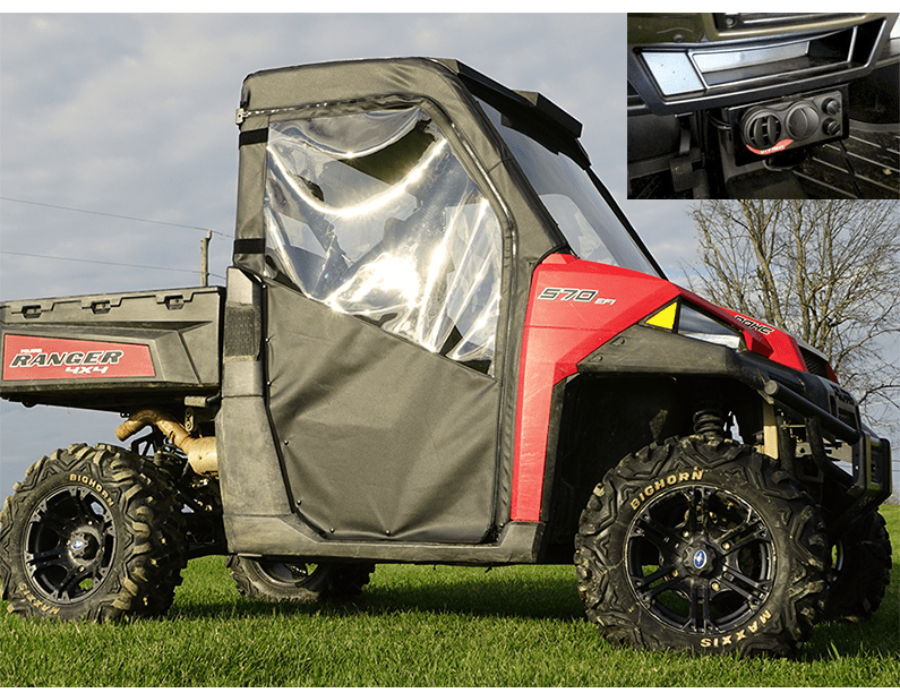 Best Cab Heater for the Honda Pioneer: Moose Cab Heater
The Honda Pioneer has long been a staple for riders who need maximum utility and customizability. Though the first buys are usually gun racks, lights, and storage, one thing remains certain: people who have a Pioneer want to use it all year long.
As far as easy installs and reliable quality go, it's an easy pick for this category. The Moose Cab Heater with window defrost has proven to be the easiest and most consistent across the board. With most installs reported as taking about an hour, you get quick access to the heat you need.
Since it's made in the USA—UTV riders always feel confident buying Moose products. You can get free shipping on your UTV heater here.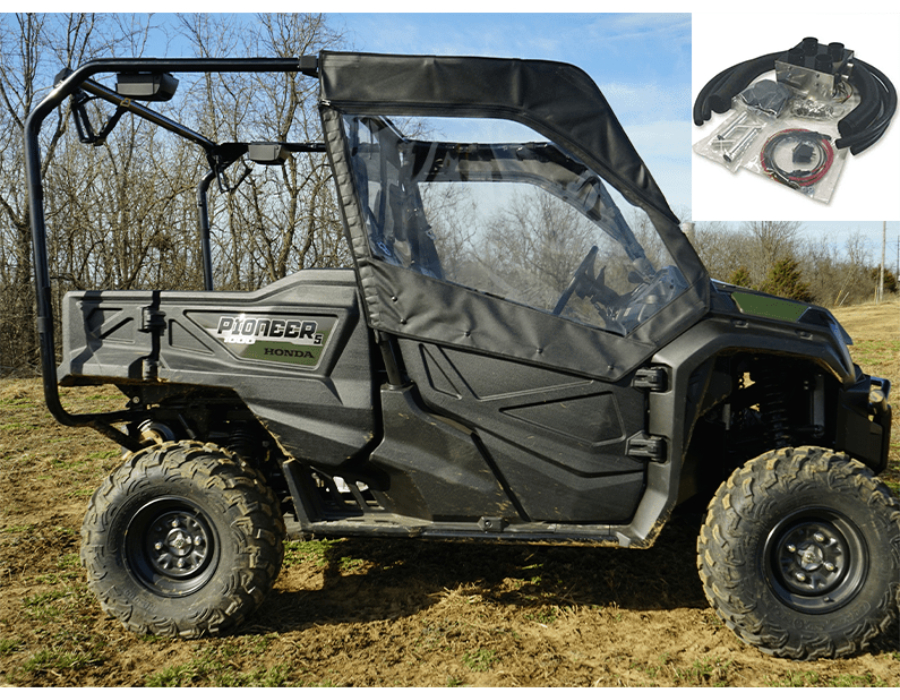 Heating Things Up at Side By Side Stuff
With a huge community of SBSS followers and fans, it was easy to make our picks for the best UTV cab heaters. No matter what vehicle you choose, you should know how easily you can add heat to a UTV with a good set of instructions.
All kits vary a little bit, but with quality parts, you're sure to get your buggy riding comfortably all year long.
See our full selection of Cab Heaters Here!