Summer Fun is Here!
As the weather heats up and the summer riding season kicks off, we couldn't think of a better time to head to the beach and soak up some sun. You know us! We're not talking about any old beach, for our May trip we headed back to Busco Beach ATV Park in Goldsboro, North Carolina. It was one of the biggest mud parties in the East, Mud Bash 2022!
We joined up with thousands of side by side and ATV enthusiasts for Mud Bash week, April 9th through the 15th, to beach dwell and give 'er hell at this week-long, full-fledged, off-road event! Camping, swimming, trail riding, live music, nightly parties, Busco Beach delivers! Mud Bash is one of the wildest UTV events in the nation, and boy this year did not disappoint!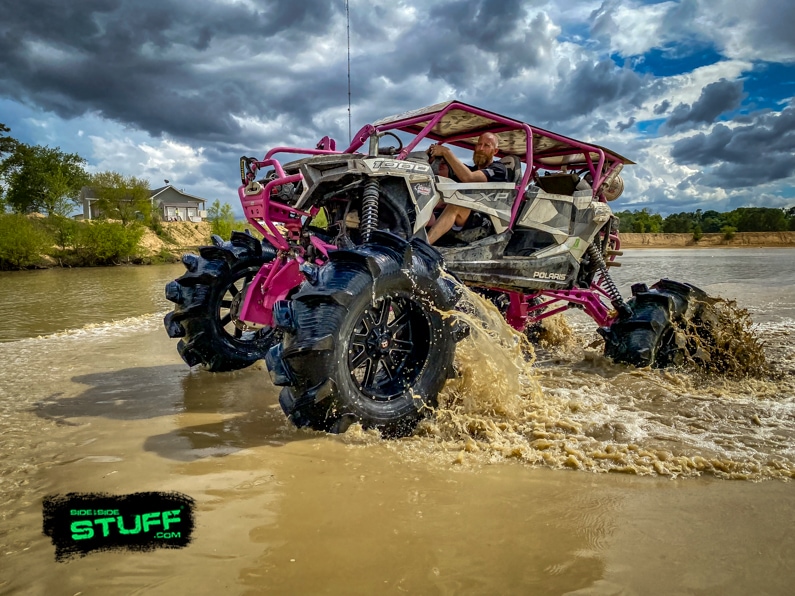 From your Average Joe sxs to some big built, mega mud side by sides, you'll see just about anything at Busco Beach. Not just limited to UTVs either, dirt bikes, ATVs, 3 wheelers and more were all spotted at the event. Not gonna lie, there was some super impressive machines out there. It was fun to get to see them all!
Who joined the party?
We met up with our friends Jakoben and Kyle from Mudlife. They brought their latest build; a monster Can-Am Maverick X3 they dubbed Bankroll! This thing was sick, 12" lift, Portals, 58" tires on 36" wheels, what a beast! It was cool to get to ride around in Bankroll and hang with the Mudlife boys! We def had necks turning! Be sure to check them out on social, just look up Mudlife.
There was a TON of cool vendors and entertainment!
It wouldn't be a mud event without some muddy entertainment. Our friends from King of the Deep put on the King of the Deep Mud Races at Mud Bash, what a blast! With classes for ATVs and UTVs, racers battled it out around a mud course for cash purses. A joy to watch, it was definitely a crowd pleaser. If we didn't have to take the pics, we would of ran, it looked so fun.
From local food trucks to aftermarket parts and accessory companies, Mud Bash was stocked with some great vendors. There was plenty of great food to choose from, local BBQ, fried gator, street tacos, let's just say we ate good! Some of our favorite STUFF brands were present in the vendor area, Gator Waders, Super ATV, EFX Tires, and MSA Wheels just to name a few, all slingin' parts, passing out freebies and visiting with attendees. We even caught up with our friends from MSA on the trails, they call it product testing; haha.
I'm a sucker for some good live music, most of us are, aren't we? Saturday night the tunes carried across the waters as we enjoyed performances by Tyler Samuel and Justin West. Both shows were great! We got to ride with Tyler Samuel some too, he was so down to earth and a ton of fun.
Spotted Something New!
One local dealer brought out a couple of new Segway electric UTVs, it was cool to get up close and check them out. They were really nice machines! Looks like we'll need some Segway parts and accessories on the STUFF website before too long.
What is Busco?
A unique off-road mecca, Busco Beach is a 2000+ acre park made up of man made, sandy beaches and vast, swampy trail systems. Surrounded by the Neuse River, the muddy bottoms are ever changing and wet resulting in the perfect conditions for mud riding. Several lakes with sandy beaches that lie in the center of the park provide opportunities for water sports recreation like fishing, swimming and jet skiing, as well as riding ATVs and UTVs right in the waters.
There's more, the park has a drag strip, motocross track, and an abundance of mud holes, there's definitely something for everyone. You'll also find a pro shop, ATV rentals, a repair shop, an outdoor concert venue, shower houses, concessions and even a wash station to clean up your rig. Plan on staying, there's tons of area for primitive camping, and RV hookup spots are available as well. We recommend putting this park on your bucket list! Want to go but don't care for the crowds? No worries! Busco Beach is open for riding 365 days a year, 24 hours a day!
All in All.
We had a blast at Busco Beach, all in all Mud Bash 2022 was a huge success! It was great to get out, ride with friends and make some new ones! We had so much fun exploring the trails and hanging at the beach. Not to mention the nightly parties got wild! Another great weekend in the books! You know you want to get in on this beach party, so be sure to put Mud Bash 2023 on your calendar. We'll see ya there!
Shout out to Seizmik for providing us with a UTV on-site, they came in clutch!