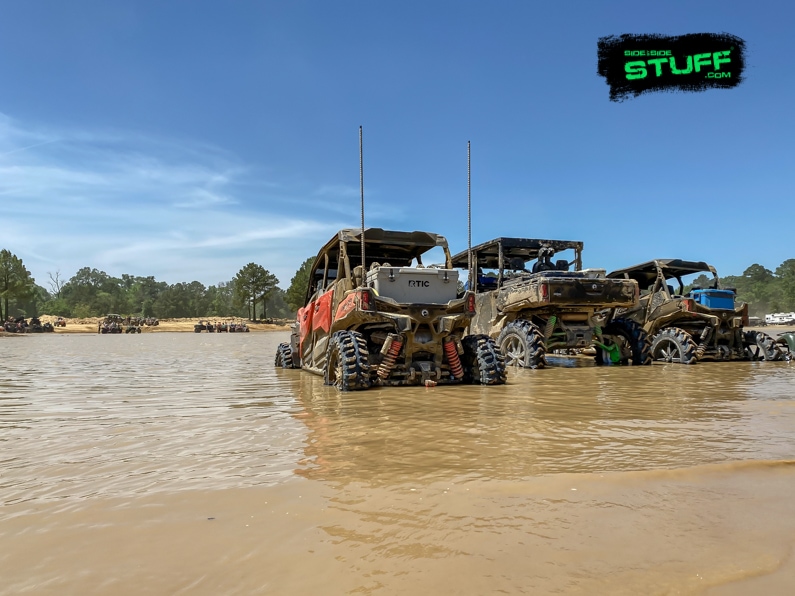 As mud season continues, we headed out to Busco Beach ATV Park in Goldsboro, North Carolina to join our friends in the east for Busco Beach Mud Bash 2021! Undeniably one of the biggest offroad events in the nation, Mud Bash 2021 brought in offroad enthusiasts by the tens of thousands for a full-fledged week of camping, riding, swimming, and getting wild at the most ultimate mud party out you've ever experienced. Yes, we said week-long; Mud Bash is a full 7 days of non-stop fun, with the 2021 event taking place during the week of April 26th through May 2nd.
With most of the event activates happening over the weekend, the first part of the week was just about riding and enjoying the scene. For the Mud Bash event, there was a large vendor area with many aftermarket parts and accessory companies in attendance. Several brands like Gator Waders and Super ATV were present selling products, visiting with fans and customers, as well as making a little time to get out, ride and enjoy the park.
Our friends at King of the Deep organized the entertainment for the weekend, not only does King of the Deep plan, promote, and host off-road events, they're widely known for their ATV and UTV bounty hole series. They have a ton of events and competitions lined up on their 2021 schedule so be sure to check out their website for event dates (we've linked it at the bottom of this page so you can check it out AFTER you finish this article of course).
One of the highlights from the event was the ATV and UTV mud races. Racers went head to head in their machines racing around a circle mud track to determine who's the fastest. There were a couple of UTVs that tipped over in the muddy water during the race, but no worries, both drivers got out safely. It was definitely a ton of fun to watch.
One of our favorite events of the weekend was the ATV and UTV bounty hole. The biggest and baddest ATV and UTV builds take on the deep, muddy bounty hole for the fastest time and a cash prize. Snorkels are a must for this run, it was fun to watch the ATVs go super deep. Most all completely underwater, and some guys didn't make and completely drowned their quads. The UTVs up for this challenge were mostly all big, lifted rigs. Some completely decked out and high in horsepower, it was fun to watch the big boys take their turn for the fastest time and a cash prize.
An old sand quarry turned to riding park, Busco Beach is an amazing and unique place for offroad riding. Several lakes with sandy beaches make up much of the park's footprint allowing attendees to swim, fish, jet ski, and ride ATVs and UTVs right into the water. It doesn't stop there, the 2,000 plus acre park has much more to offer, you'll find motocross tracks, a drag strip, small ponds, mud holes, bounty holes, mud pits, and many trails. But wait, there's more.. Busco Beach also offers ATV rentals, they have a repair shop, an outdoor concert area, shower houses, a bike wash, concessions, and a pro shop. Plus, Busco Beach has a ton of room for primitive and RV camping, with some RV hoop-ups available. We definitely recommend checking out this park. If you don't like big crowds, no worries, you don't have to attend a big event, Busco Beach is open for riding 24 hours a day, 365 days a year.
All in all, Busco Beach Mud Bash 2021 was a blast! We got to meet some great people, rode some fun trails, and soaked up some sun on the beach. We couldn't have asked for a better weekend. If you're down for a massive mud/beach party, be sure to put this event on your list. Maybe we'll see ya at Mud Bash 2022!
Special thanks to Steven and Katie Chappell from King of the Deep, we truly appreciate your hospitality during our stay! Be sure to check out King of the Deep on Facebook and peep the Bounty Hole series schedule by visiting their website – https://kingofthedeep.com/
Learn more about Busco Beach at – http://www.buscobeach.com/