Starting in 1999, the UTV market was electrified by Polaris coming on the scene with their first SxS after dominating the market for snowmobiles. By 2010, Can-Am was hot on their trails. The difference between Can-Am Defender and Polaris Ranger or any of their vehicles is a tricky question.
It's hard to know which has more horsepower, which handles better, and which is going to be the best UTV for you. There's a lot to consider, but we're diving in today to give you a straightforward guide to comparing Can-Am and Polaris side by sides.
See which wins in each when we set up Can-Am and Polaris, judging the power, ride, and trim of their three most popular models.
Can-Am Maverick vs. Polaris RZR
The biggest question most riders have when deciding between Can-Am or Polaris UTVs is based on two of their most popular models: the Can-Am Maverick X3 MAX X MR TURBO RR and the Polaris RZR Pro R Ultimate.
As prices vary, and stats are important, here's a closer look at the differences in engine, suspension, and everything you need to know:
Can-Am Maverick power
This lightweight UTV takes every advantage of its 900cc 4-stroke engine to put out the kind of performance you expect from Can-Am. Liquid-cooled with a horizontal in-line engine, there's a lot of fans that give this buggie's engine the A-OK for quality, power, and performance.
Polaris RZR power
Coming in with a stout 997cc engine, Polaris wasn't playing games with power. An in-line 4-stroke engine with one more cylinder than the Maverick (4 vs. 3) helps this buggie reach top speed as fast as you need.
With a slightly larger engine and an exceptional engine build, one could say that the "North Star" might have the upper hand. When it comes to judging the Can-Am Maverick against the Polaris RZR by engine power, it's important to remember other important factors. How will the ride feel, and does it have everything you need? Find out more below.
Can-Am Maverick's ride
22" of travel is nothing to poke fun at when we're talking right-off-the-lot ride. Designed for the discerning rider, the double A-arm front suspension coupled with ITP Cryptid 30 x 11 x 14 rear tires that come stock, you can feel confident on any terrain you trek.
Polaris RZR's ride
Stepping it up once again, the RZR's independent double A-arm suspension can really take a beating—while making sure you don't. It's stiff yet comfortable when riding messier trails. It's responsive when climbing harsh terrains. Paired with a couple of 32" x 10-15" Maxxis tires in the back, this buggie was built to send it.
Whichever way you lean—rough trails or easy touring—the Can-Am Maverick and Polaris RZR both have incredible options available for those willing to take the ride. If you're not looking to upgrade in-store, there's a huge selection of aftermarket parts that can help you build a ride that settles the debate!
Trim
First off, the most noticeable thing to mention when it comes to the trim and accessories of your Maverick or RZR is that the Can-Am has 4 seats, while the RZR only has 2 (In the models described in this comparison).
Once we get beyond that, it's a little hazier who wins. Starting in 2013, the Maverick has had less time for aftermarket parts companies to get OEM-quality products lined up. With six more years of models, RZR parts and accessories have gotten as good as they're going to get.
So, if you're looking at buying a 2018 or newer Can-Am Maverick, the level of quality of your interior, trim, and accessories is only going to get better. Fortunately, no matter which you pick, the market for kickass lights, lift kits, wheels, tires, and more is only growing. Then, it just comes down to which brands you like more!
Browse Can-Am Maverick or Polaris RZR parts and accessories
Can-Am Defender vs. Polaris Ranger
Power
For a couple of workhorse vehicles, these 2022 models have some serious oomph behind them. Both clocking in at 82 HP, they're clearly built to haul either payloads—or ass! The Can-Am has a slightly larger engine at 999cc compared to the 976cc Polaris Ranger engine.
Both are regarded as some of the sturdiest UTVs around, and this shines through in their engine performance. If you need to know you have the bigger engine, Can-Am is the way to go. If you don't, then go Polaris.
If you're worried about the power of your Can-Am or Polaris engine, there are air intake, exhaust, and engine performance upgrades you can make. SideBySideStuff.com makes it easy to upgrade your Polaris or Can-Am vehicle no matter what you need.
The facts are we'll need to compare some other factors like ride and features before anyone makes a decision.
Ride
The leading cause of great rides: great suspension. With these more utility-focused buggies, a smooth and responsive suspension can help you stay more comfortable and safe over treacherous terrain. Here's a quick breakdown of crucial factors in UTV suspension:
Can-Am Defender suspension stats:
Ride height: 13"
Suspension travel: 11"
Polaris Ranger suspension stats:
Ride height: 12.5"
Suspension travel: 11"
With almost identical ride heights and suspension travel, it can be hard to tell by just the numbers. At SBSS, what we've noticed is that you have to actually go out and ride to have an opinion!
As it turns out, the Polaris Ranger suspension is tuned for lower speeds, whereas the Can-Am Defender is tuned for higher speeds. In the end, when the ride of these two faces off, it comes down to which style of riding you plan to do.
Ride comfort
With a roomier build and more comfortable interior, there are a few who say that Can-Am Defender wins. But that's only some people. At Side By Side Stuff, we've heard dozens of people say that the Polaris suspension offsets any comfort issues. As an added benefit, the Ranger's tight turning radius from a smaller overall cab is a plus to many as well.
If you're really getting into it on a long ride, there's nothing more important than feeling comfortable and safe. With cab enclosures and heaters for your Polaris Ranger, RZR, or Can-Am UTV, you can stay warm and safe from branches, debris, or anything that can get inside a vehicle and wreck your ride.
Water and mud riding
If you're a rider worried about which handles better in water etc., it gets a little muddy (pun intended). Where the Can-Am has an upgraded mud model with an improved differential to conquer tough trails, the stock version of the Polaris Ranger is better from the start.
Reliability
Finally, the reliability of the Can-Am Defender and the Polaris Ranger has to be addressed. With the right parts and a responsible driver, either can last extremely long. Really, it comes down to your you treat your buggie and how many miles you're putting in on the trails. Any "wear parts" we offer for either of these typically move off shelves at the same speed.
Accessories/Trim
There's thousands of configurations, trims, and upgrades available at the dealership for either of these vehicles that can add comfort and safety to your rides. But, aftermarket parts are the way to go for those buying used. So, based on our website, we pulled some facts for you to chew on:
Ranger Stats
First model launched: 2001
Parts/accessories available: 10,917
Defender Stats
First model launched: 2015
Parts/accessories available: 1,489
Clearly, there's a LOT more parts available for Ranger models—because there's been so many more of them. People with a 2005 Ranger come to our site and only need a hose, and we'll have it. Can't list a 2005 Can-Am Defender part if it doesn't exist!
That being said, the aftermarket lift kits, wheels, tires, lights, and storage equipment available for Can-Am are right up there with the Ranger. Top brands are building upgrades for both, and new ones seem to come out every day.
Browse Can-Am Defender or Polaris Ranger parts and accessories
Can-Am Commander vs Polaris General
For a balanced mix between sport and function, most riders choose between these two types of side by sides. But which wins when it comes down to the line? Let's find out!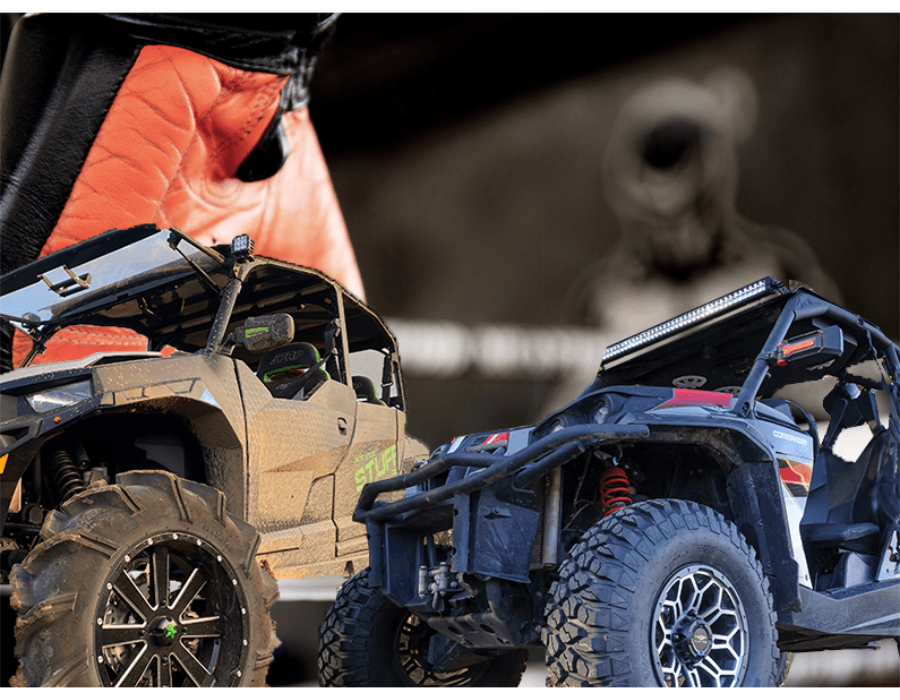 POLARIS GENERAL SPECS
ENGINE & DRIVETRAIN
Cylinders Displacement: 999cc
Drive System Type: On-Demand True AWD/2WD/VersaTrac Turf Mode
Engine Type: ProStar 1000 4-Stroke DOHC Twin Cylinder
Fuel System/Battery: Electronic Fuel Injection
Horsepower: 100 HP
Transmission/Final Drive—Automatic PVT P/R/N/L/H4
CAN-AM COMMANDER SPECS
ENGINE & DRIVETRAIN
Type: 92 hp, Rotax® 976 cc, V-twin, liquid cooled
Fuel Delivery System: Intelligent Throttle Control (iTC) with Electronic Fuel Injection (EFI)
Transmission: CVT, L / H / N / R / P, standard engine braking
Drivetrain: Selectable 2WD / 4WD with Visco-Lok QE† auto-locking front differential
Power Steering: Tri-Mode Dynamic Power Steering (DPS)
Power
With two hefty engines for both, there's no slack coming from either of these buggies. Here, Polaris opted for a 999cc engine to drive a whopping 100HP to the trails, and Can-Am Commander isn't far behind with 92HP coming from a liquid-cooled, V-twin engine.
What we hear most about the difference in power is how you drive, how hard you lean into the throttle, and what kind of terrain you're on. When it's that close, it seems to many to be more of a "feel" thing than anything else.
Ride
For many, the Can-Am Commander has a better ride on well-tread, steady trails. The torsional trailing arms keep the camber ultra-steady in a variety of different environments. That very same camber is what makes revving higher through bumps and debris easier at higher speeds.
For the more nitty-gritty, mud-covered, and bead-locked tire crowd, the Polaris has some clout. It has an additional inch of ground clearance and suspension travel as well, which is a long way to say: "it's gonna handle big stuff better."
The locking front differential makes crawling over logs and rocks a breeze. When one wheel starts to slip—the whole diff. locks. So, you're essentially slippage-free in the right conditions.
The biggest debate we hear about this vehicle is how one rides better than the other. Here's the problem—nobody uses their UTV for the same thing. Where one may ride better in hot, wet, and muggy conditions, it might not perform as well in the cold. Take the options available, as well as your environment, into consideration before making up your mind.
When it comes down to it, they feature the same kind of CVT transmission that makes it a breeze to power through rocks, mud, hills, and anything else that puts tires to the road. So, the easiest upgrade is a new air intake or snorkel kit from brands like High Lifter and more.
Trim
Polaris and Can-Am are known for quality, and most of all, they're known for putting together some of the best stock rims for side by sides on the market. As far as standard options go, they are as good as you expect.
With some of the coolest stock colors, seats, and headrests in the industry, the General is one of the easiest UTVs to get that looks great and feels comfortable off the lot. But, in the most recent models, Can-Am has put a lot of effort into customization.
More interestingly, the aftermarket parts selection has skyrocketed, too. If you're looking to upgrade your Can-Am side by side, there's a ton of options available.
To General and Commander riders alike, one thing that most people forget until they need it is aftermarket collapsible mirrors. You never know how much you need them until you don't have them.
Adding aftermarket collapsible side mirrors makes sure that when you are out on the trails or on the road, you have an easy way to see what's coming and a simple solution for taking up the least amount of space when you're parking your rig.
Browse Can-Am Commander or Polaris General parts and accessories
So, Who's The Champ?
The verdict's still out, and it's up to you:
Get involved and active in our online community.
Hit the trails (we can call it research).
Tune your rig to the best it can be (you know where to get the parts!).
Sound off in the comments: Is it Canadian Craftsmanship or Minnesota Muscle that takes the cake? We need to hear!
Upgrade Your Can-Am or Polaris
Upgrades are always more expensive at the dealership, and there are always a ton of options. Whether it's the Can-Am Defender, Polaris Ranger, or any vehicle in between, you're going to save money waiting on buying accessories and upgrades by buying parts online.