"My first four-wheeler experience is an interesting story," says Scott Smith, owner and President of High Lifter Products, Inc. "Let me take you back probably 4 or 5 years before High Lifter was imagined. I was in the rice fields down in central Louisiana, snipe hunting with a buddy of mine. He had an old Honda Fourtrax 250. It was the first time I ever sat on a 4 wheeler, 3 wheeler or anything. I was a mud-truck guy. So we started pulling towards this slough (Louisiana swamp) and I was on the back. Keep in mind, it was February and it was damn cold. There was a better rice field on the other side of this slough and we could see a snipe flying in and out. My buddy started towards that slough and I said 'What are you doing?!' He said, 'I'm going to cross this slough and go to the other field!' I was like, 'Oh hell no, not with me on the back!' He wouldn't stop to let me off and the next thing you know, the water was halfway up to the seat. It was unbelievably bad mud. We got to the middle and were still moving. It was at that point I realized we were going to make it all the way across! I thought to myself, 'holy crap, I gotta have one of these!' Sure enough, we came out of the slough and crossed the levy to the other rice field, and we ended up getting our snipe. That was my introduction to four wheelers."
High Lifter Products, Inc.
is known for creating and distributing high-quality,
aftermarket parts
for four-wheel drive ATVs, UTVs and side by sides. What was once a one-man, evening hobby is now a 55 employee, multi-million dollar corporation, and it all started with a little snipe hunting, and then some father and son quality-time.
Armed with a degree in finance, Scott Smith, 49 of Shreveport, Louisiana, started out his professional life as a commercial real estate appraiser. He specialized in financing downtown office buildings, nursing homes and shopping centers. He became interested in construction and soon changed his profession to being a general contractor. When he wasn't working, Scott enjoyed riding four wheelers with his father, Mike Smith.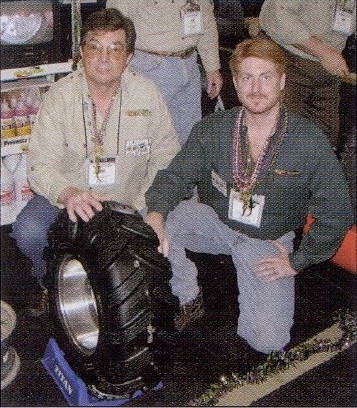 One day, back in 1996, Mike came to his son with an idea. "He wanted a lift kit for his four-wheeler," Scott explained. "At the time, the largest tire you could get was a 26 inch Super Swamper. He wanted to put those on his four-wheeler and he couldn't make them fit. So, I built him a lift kit, welded it on and it came out pretty cool."
Scott's dad saw enormous potential. "It was my dad's idea to try to sell them," Scott adds. "I told him as long as you have to weld this kit on, you'll never sell it commercially. So we set out to create a bolt-on kit. Back then, nobody knew what a
lift kit
was. People would see our four-wheelers and notice that ours were taller than theirs. They'd ask and we would have to explain what a lift kit was. I told myself, if we could sell 50 lift kits a month, it would be a great hobby for me in the evening. My dad was the driving force behind all of it. He even came up with the name, High Lifter. With his ideas and my hard work, I started building the ATV lifts in the evenings."
His evening hobby soon turned into a two story office building with 30 employees, a giant warehouse and a website, complete with a forum where riders could chat about their experiences. "Before Facebook and Instagram, our High Lifter forum was the social site for all things mud riding. We had the biggest, most active mud-riding forum and website on the web. Our customers would talk about riding and meeting each other to go on rides. My dad, now retired, was High Lifter General Manager at the time, and Dan Doughty, General Sales Manager, decided to plan a ride and invite all the forum people plus a few vendors, and make it a riding competition. So, my dad and Dan get 100% of the credit for creating our annual High Lifter Mud Nationals."
Scott ran his construction company and High Lifter for seven years before he decided to sell and go to work for High Lifter full-time. Making that kind of change can be challenging and downright scary. "My first thought when I got here was 'What the hell do I do?' I was always involved in research and development but that's not an 8 hour day so I would sit there for the first, I don't know how many months and just stare at my computer," said Scott. "Everybody either took care of things themselves or they went to my dad or James "Tank" Cassell, current General Manager, if they had questions. However, after a few months, my office turned into a revolving door and now I don't have that problem anymore!"
In 2007, with the birth of the 50 inch Polaris RZR, High Lifter began a partnership with Polaris and shifted part of the focus to side by sides. "We had five RZRs in our shop months before they were released to the public," says Scott. "So, we got to do a lot of playing and riding them. It was clear that it was a home run and we needed to be in the side by side business." Scott told us that his proudest accomplishment thus far at High Lifter involves the partnership with Polaris. "Having four High Lifter models in the Polaris line up is my proudest accomplishment. There are a lot of one hit wonders in life but having that full family of units, to me, is pretty amazing," says Scott.
In 2008, High Lifter was named Small Business of the Year by the Greater Shreveport Chamber of Commerce and The Forum News. This award honors the achievements, sustainability, productivity and contributions to the community of area businesses. The entrepreneurial and mechanical skills of Scott Smith, along with Mike's genius ideas, and outstanding support staff of employees have made High Lifter Products one of the leading ATV aftermarket businesses in the nation, to-date.
"My advice, for anyone starting their own business, is to be willing to work for free for years and years," Scott says. "Be willing to hear the word 'NO' over and over and over again. You've got to push through it and understand success is going to have to come from within, because nobody is going to hand it to you. My interpretation of the word 'no' is: you just don't understand yet, I've not been clear enough."