UTV Takeover is Back
The UTV Takeover Tour is back for 2022, and we couldn't be more excited to be a part of it! If you haven't heard of UTV Takeover, you might be living under a rock. It's the premiere side by side event series expanding across the country. This year the tour takes on Mid America Outdoors in Oklahoma, Sand Hollow State Park in Utah, and, of course, to kick it all off, where it all started, the grandfather location of the event series: the Oregon Sand Dunes in Coos Bay (North Bend).
UTV Takeover Oregon was one hell of an event! From an abundance of action-packed activities, nightly entertainment, a massive vendor row, and the open dunes, it's the perfect concoction of fun for off-road enthusiasts. 2022 marks the 7th year for the tour, and Oregon did not disappoint. The event drew in thousands from across the country packing the area's campsites and nearby hotels with like-minded riders there to enjoy UTV Takeover's fair-like atmosphere, the beautiful Oregon scenery, and the thrill of riding in the sand dunes.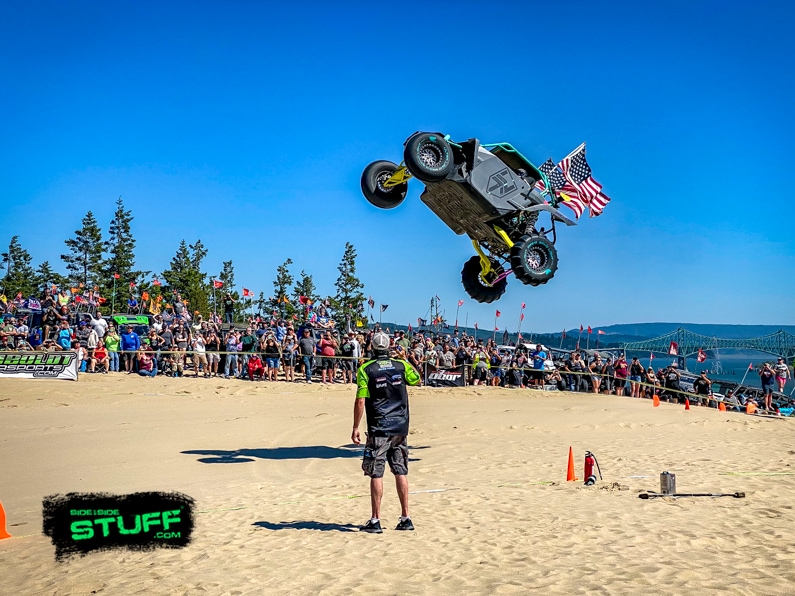 So Much to Do
From the dragstrip and the short course races to guided group rides, there was no shortage of activities and entertainment for attendees to participate in and spectate! A personal favorite, and by far the most famous event during Takeover is Huckfest. Riders risk it all for the long jump, launching their machine off a serious dune to see who can get the farthest. A crowd-pleaser, this spectacle often includes some carnage. With several good wrecks, it was fun to watch, and fortunately, no one was injured during the show.
Vendors, Vendors, Vendors…
The event boasted a massive vendor row with over 70 vendors present. From great food trucks to the best in the biz for aftermarket parts and accessories, including High Lifter, Seizmik, Falcon Ridge, MTX Audio, Rugged Radios, Trinity Racing, Warn, Assault Industries, CST Tires, MB Quart, Off-Road Vixens, Raceline Wheels, Fuel Off-Road, EFX Tires, MSA Wheels, KMC Wheels, and Pro Armor.
This year, one of our favorite aftermarket brands and partner, Seizmik, was a title sponsor for the event! Seizmik is an industry leader for aftermarket SxS accessories with a focus on products that are useful, durable, and affordable, primarily for work, hunting, and family outdoor activities. It was great to see the Seizmik brand branching out to the west coast and showcased at the event. Kudos to Seizmik!
Several OEMs were there as well including Yamaha, Can-Am, and Polaris, showing off their latest lineup of machines and offering demo rides in the dunes. Ricky from High Lifter and myself took the new Polaris RZR Pro R for a spin, we had a blast putting the pedal to the floor in the dunes in the new machine!
All Night Long!
The vendor area is home to several evening activities each night. From the Show N Shine and the Stereo Wars to Rock N Roll Bingo and live music, UTV Takeover kept the party going all night long!
The Big Dogs Come Out to Play
There's no doubt, you'll catch some industry celebrates and pro racers hanging out at UTV Takeover. We spotted several UTV Takeover athletes, racers, stuntmen, and influencers including Ruslan Yankilevich, Wyatt Hastings, Brent Gilliam, Brandon Radach, and Shreddy Lyfe's own Blake Wilkey just to name a few. We even caught up with legendary pro racer Wes Miller! As famous as these dudes are, they're still just down-to-earth guys hanging out at the event, visiting with fans and enjoying their favorite sport!
She Said Yes!
One memorable moment we can take away from the trip was an epic proposal during one of the night rides! It was absolutely beautiful, we wish the couple many, many years of happiness! Congrats!
Oregon Dunes National Recreational Area
Home to UTV Takeover Oregon and the birthplace of the event is the Oregon Dunes National Recreational Area in the North Bend / Coos Bay area. It's known as the UTV, ATV, and Dune Buggy capital of the Pacific coast and is the largest expanse of coastal dunes in North America. Stretching around 40 miles along the Oregon Coastline, the area features sand dunes that reach as high as 500 feet above sea level and offers duners an unforgettable and thrilling roller coaster-like experience that keeps you wanting more. Match the thrill with the beautiful Oregon scenery and the friendly folks in the community, the Oregon Dunes National Recreational Area is a perfect place for a UTV Takeover!
All in All.
UTV Takeover Oregon was a huge success! From all the fun ripping in the sand dunes to the non-stop entertainment, this event was a blast! We had so much fun hanging out with friends, making new friends, and memories that will last a lifetime. Until next year! Make sure to put UTV Takeover Oregon 2023 on your calendar, we'll see you there!
Learn more at – https://www.utvtakeover.com/