https://youtu.be/N3kFKZu3Hoo
Dragonfire Racing turned it up at the Sand Sports Super Show 2019 with their killer new Polaris RZR Turbo S build, Shake & Bake. This bad boy is decked out with aftermarket grit and aggression from its new UTV Race Pro front bumper to the customized Baja Rear Bumper, and everything in between. Side By Side Stuff gives a mega fist bump to Kyle for showing us the ins and outs of the sweet new Dragonfire build. It's time to dig in Side By Side Stuff junkies.
Let's start off by talking about the interior of this mean machine. The Dragonfire crew has integrated the GT series seats, complete with the EVO harnesses and quick-disconnect harness anchors. If that isn't enough, get a load of that Carbon Fiber quick-release steering wheel. Straight-up sleek!
As we keep things moving, we find this monster rig dons the RZR suicide doors, which range in fitment for several RZR applications. To accessorize the edgy side by side doors, say hello to the Slayer Side Mirrors and the Side Shooter light cubes. Nothing but pure practical aggression up in here.
Now we've approached the tail-end of our tour of Dragonfire's finest, and some could say they saved the best for last. The long-anticipated Tonneau Cover has the offroad community dripping with anticipation and rightfully so. That's not all, though. Shake & Bake dons the Smoked LED Whip, LED Chase Light Bar, and the CageWRX cage integrated with DFR's new Baja Rear Bumper.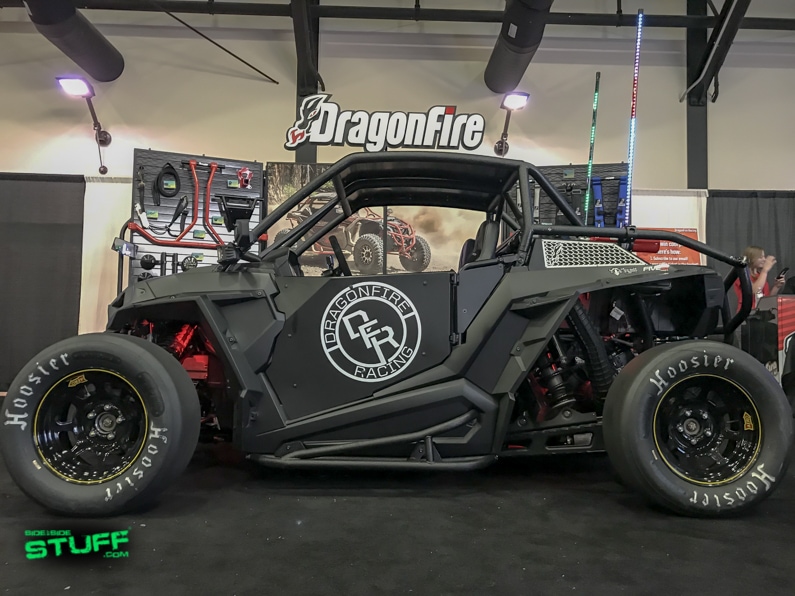 Dragonfire Racing Parts Equipped
Turbo S Grill – Prototype
Baja Rear Bumper – Prototype
Turbo S Quick Disconnect Harness Anchors – Coming Soon
Turbo S Tonneau Cover – Coming Soon
Smoked LED Whip – Coming Soon
Talk about one rad rig! Dragonfire held nothing back. Are you seeing something you must have? We know we sure do. You'll find most of these aftermarket UTV parts and accessories at SideBySideStuff.com. Keep your eyes open, and your ears peeled for up and coming releases from our buddies at Dragonfire Racing.