We met with SxS enthusiast Brent Griffith of Bulletproof Specialties at the 2018 High Lifter Mud Nationals to get the details on his latest UTV build, his 2018 Polaris Ranger XP 1000 "White Walker".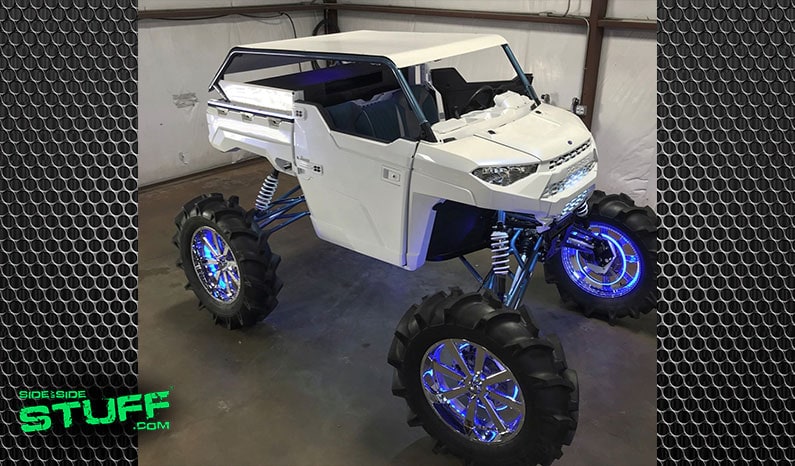 When coming up with ideas for his next Mud Nats build, Brent knew he wanted a big machine with the chopped top look. He also wanted something that could accommodate an over the top stereo system, a UTV with a bed seemed like a good route. With the release of the new Polaris Ranger XP 1000 prior to the event, Brent felt like it would be a great choice for his project. He also figured it was a great opportunity to be one of the first guys to build the new UTV into something crazy and over the top.
Longtime friend and fabrication partner, Kaleb Kramer at Rogue Off-Road, saw Brent make a post about his new Ranger. Kaleb gave Brent a call expressing interest in working on his new machine. With knowledge of Kaleb and his team at Rouge Off-Road's previous work, it was a no brainer for Brent to want Kaleb working on his new project. After many hours of custom suspension and frame work at Rouge Off-Road, Brent's Ranger was beginning to look like the monster mud rig he envisioned.
Custom UTV builds were nothing new to Brent; his success in the past has provided him with some great connections. MSA Offroad Wheels jumped on as a sponsor providing their new 24″ MSA M34 Flash Chrome Wheels for the build. Brent paired them with 44″ BKT Tires for a great look and optimal mud performance.
To retain power to turn those big tires, Brent went with a set of Super ATV 6″ GDP Portals. The 6″ Super ATV Portal Gear Lift makes it much easier to run large tires due to the 45% gear reduction they provide.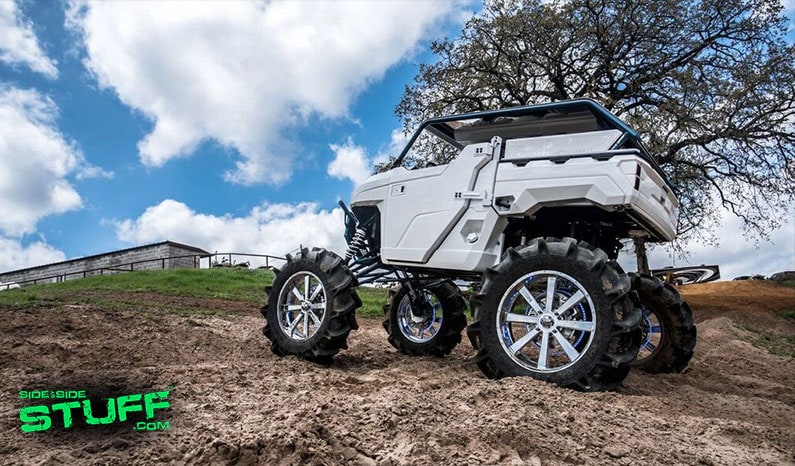 Brent was looking for a special audio system; ES Audio took care of Brent with a custom sound system that includes eight 8" Kicker speakers, one 15" DD Audio subwoofer in a 4th Order box and Wet Sounds amps. They also installed the RGB lights and mounted mirrors in the roof.
Comfy and stylish, F&T Upholstery out of Tyler, TX did a great job on the custom seats and Justin Witts at Witts Elite Graphics out of Shreveport, LA knocked it out of the park on the white pearl paint job with blue flakes.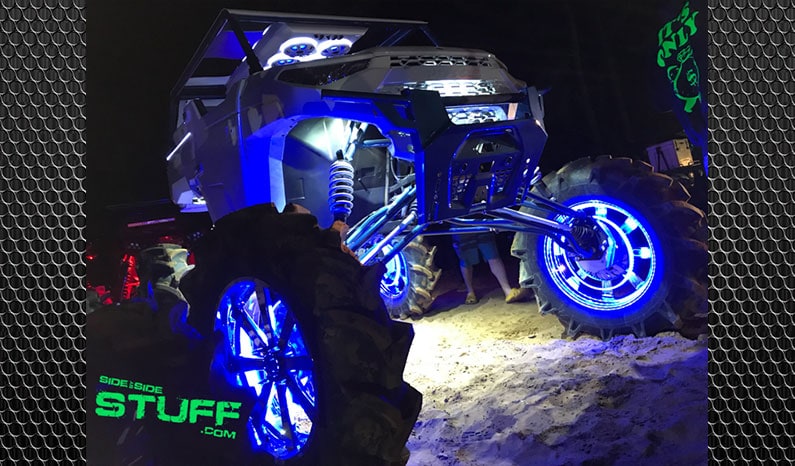 Over the last year, Brent continued to upgrade White Walker. Be sure to look out for this custom build on social media and at the 2019 Mud Nationals.
White Walker Specs
2018 Polaris Ranger 1000
Cobra Axles
F&T Upholstery
Polaris OEM Doors Custom Made to Fit
Tyler Coatings 3 Stage Colorshift Powdercoat
Witts Elite Hydrographics: White Pearl Paint Job with Blue Flakes
ES Audio custom sound system: Eight 8" Kickers Speakers, one 15" DD Audio Subwoofer, 4th Order Box, Mirrors Mounted in the Roof, Wet Sounds Amps, and RGB Lights.
ES 3800 Watt Battery
Whether you have a Polaris Ranger, Can-Am Defender, Yamaha Wolverine or Honda Pioneer, Side By Side Stuff offers a large selection of UTV accessories so you can customize your own build.
Shop today, just visit SideBySideStuff.com
https://www.instagram.com/p/BvA7S91ACd_/