There's no season like snow season—but if you're planning to ride an ATV in snow-filled environments and roads, you better come prepared! If you're plowing, ice fishing, working, or just riding for the heck of it, we've got you covered. This article will give you an extensive guide to riding your ATV or UTV in the snow.
We'll go over the top UTVs for winter riding, what to plan for winter maintenance and vehicle preparation, plus safety tips and recommendations for the gear that will keep your rig running its best through the powder

Find the Best 2022 Side by Side for Winter
2022 Can-Am Defender Limited
The Can-Am Defender is a great all-around vehicle for work or play. It doesn't hurt that there's a fully enclosed cab and included HVAC as well. Kicking out 82 hp through an HD10 engine means it's got the power you need and more. Plus, as one of the more popular brands on SBSS, there's a ton of aftermarket parts to upgrade the vehicle.
2022 Polaris Ranger XP 1000 NorthStar Edition
The Polaris Ranger has almost endless trim options for whatever you need—with a lean towards function over everything. The XP 1000 NorthStar Edition, just like it sounds, is particularly well-suited to the kind of year-long riding we like to see. It gets a fully enclosed cab, a killer HVAC system, and a tip-out windshield paired with a windshield wiper. Matching Can-Am at 82 horses, the power behind this side by side is excellent. You can pick up a 2022 Polaris Ranger XP 1000 NorthStar Edition for around $27,899.
2022 John Deere Gator XUV835R Signature Edition
Like the brand suggests, this vehicle is built for work. The 2022 John Deere Gator XUV835R is also HVAC-equipped and rugged enough to withstand any weather. SBSS believes if you're riding in winter, go with the XUV835R Signature Edition package. It's got a fully enclosed cab, a noise-dampening design, as well as a multi-functional bed for hauling or storing whatever you may need. One of these right-off-the-lot could run you around $27,499.
2022 Honda Pioneer 1000 Deluxe
With a lower cost for the base model, this is the budget pick for riding UTVs in the snow (Base 2022 model: $18,099). That being said, there are some upgrades that you'll need to make to get it fully winterized. Aftermarket cab enclosures and heaters are available here.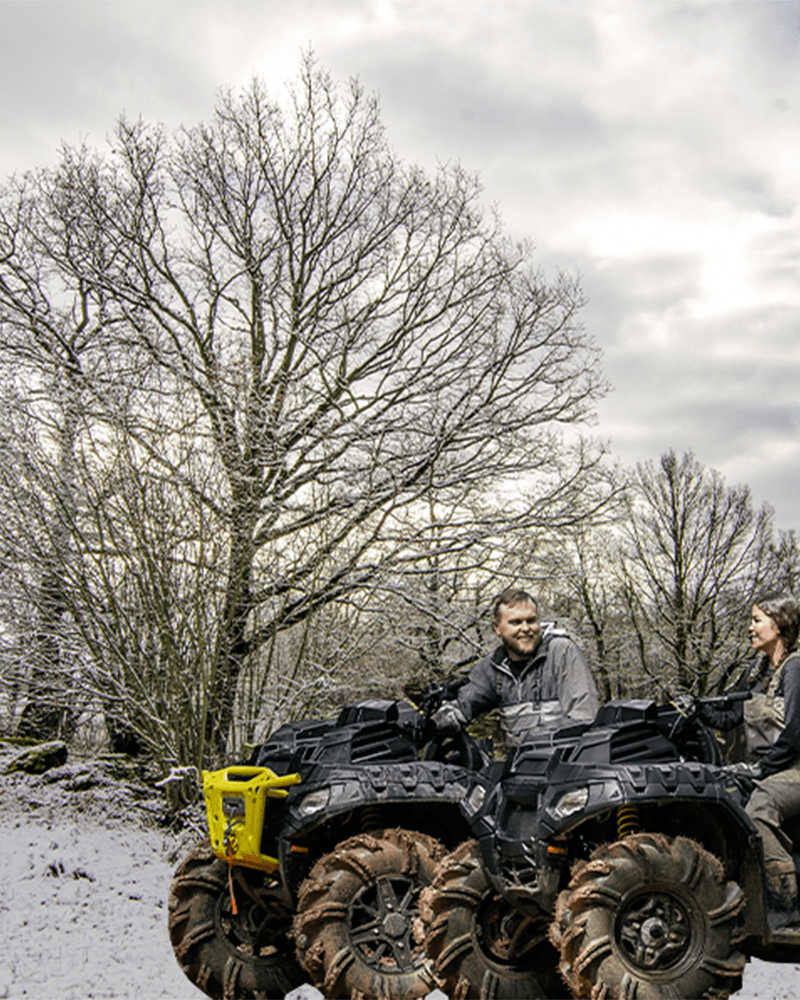 Best ATV for snow
We've narrowed our ATV pick down to just one. This is because it's got all the features of a top-performing winter ATV. So, you can use this as a baseline for the features you'll need. Polaris Sportsman 570 With great ground clearance and a 567 cc engine, this vehicle hits the "Goldilocks Zone"—not too big, not too small. Further features listed here solidify the Sportsman as a solid pick for winter riding as well as plowing:
Overall Vehicle Size: (L x W x H)83 x 48 x 47 in (210.8 x 121.9 x 119.4 cm)
Payload Capacity: 485 lb (220 kg)
Front Suspension: Sealed MacPherson Strut With 8.2 in (20.8 cm) Travel
Rear Suspension: Sealed Dual A-Arm, IRS 9.5 in (24.1 cm) Travel
It's not a huge deal if you can't buy right from the showroom floor for any of these models. You can find used vehicles with many of the same features and trick them out for winter ATV and UTV riding for less than a new base model will cost. It really comes down to how well you are prepared for the winter months. The rider who takes the time to make sure their rig is ready for colder temps is always going to have a better time out on the trails.

Prepping for riding UTVs or an ATV in Snow
If you're like us, you love working on your ride. Sometimes, after a summer of riding hard, we might forget the basic maintenance we need to get ready for fall and winter. Here's a quick list of upkeep you can do to make sure you're ready for winter:
Lubricating all grease fittings
Checking tire pressure
Checking fluid levels—such as antifreeze
Testing your drum brakes. If they froze, tapping the drum with a blunt object, or rocking the machine back and forth can free the brakes
Switching to a lighter oil for winter riding
Starting ATV or UTV engines in the cold
Each manufacturer has their own recommendations for warming up a UTV or ATV engine. Be sure to check those as well. If you don't know how warm the engine is, use a temperature gauge! That way, you'll know for sure. If you don't have a heated garage to store your ATV or UTV, you're not totally out of luck. An engine block heater is a great buy. These keep your engine warm over the coldest hours of the night. So, when you wake up and need your engine to turn over, it's already warm.
BILLY'S PRO TIP: While snow ATV riding, stay on the lookout for packed snow on the radiator. If it gets bad enough, it can cause the radiator to overheat from lack of ventilation. Once you're fully prepped for winter, the first thing you might need to do is plow snow. But is your rig ready for that? See what equipment can help make chores easier all winter.
The right equipment for riding a UTV or ATV in the snow
The most common preparation riders make for winter is upgrading your side by side with snowplow capabilities. But, before you rush to mount a snowplow for your ATV or UTV, make sure it's got the power and weight needed to push the plow.
UTV snow plows
Newer UTV models by Can-Am and Polaris are pushing out about 80 hp, and that's more than enough to push a plow. Anything over 40 should be good to go. Weight-wise, UTVs are usually heavier than ATVs in the 1,000lb to 1500lb range, so UTV riders don't need to worry about this much.
ATV snow plows
ATVs certainly can be ridden in snow, and you can attach a plow as well, but there is a little more to consider power- and weight-wise. In brief, sticking to an ATV in the 400-800cc range will work great, not because of engine power but because of the weight. Ideally, you'd want it to weigh around 400lb-700lb+ for the best results. But can an ATV push snow if it's lighter than 400lbs? Sure—why not? But you might experience some slippage and stoppage with a lighter build, though. How much snow you can go through with a plow is determined by how heavy and powerful your ATV is. Not to mention, you're going to need serious traction, too.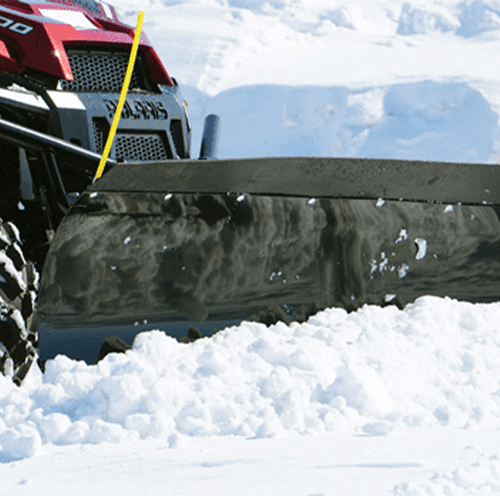 Getting better traction in an ATV with snow
Whether you're plowing, hauling, ice fishing, or just riding around, regular street tires aren't going to cut it. A big factor that determines if your ATV or UTV is good in snow is related to traction. Winter riding requires a bigger, deeper tread pattern. You want the snow to be sent outwards and away from the vehicle, and the directional treads found on mud tires help do this. So, going with an off-road tire or aggressively-treaded all-terrain tire is best. Here are some SBSS staff picks for you:
When you've got the right grip, each trip is easier. But—that doesn't mean your ride is going to be any warmer. If you're a UTV enthusiast who's going to ride in winter, you're going to want a sealed cab. Luckily, newer versions of the Ranger and Defender models are already sealed. If you've got an open-air buggy, you can keep your cab warm with a cab enclosure.

Soft cab enclosures
Soft cab enclosures are made of high-density polyester, vinyl, and canvas blends, and usually feature a zipper for easy entry. When paired with a full windshield, they'll keep you warmer for longer. Top cab enclosures from brands like Falcon Ridge are waterproof and offer great visibility. Upgrades include adding zippered windows as well. Here are the top cab enclosures for the best UTVs in winter:
NOTE: If you're really deep into sub-zero temperatures, a cab enclosure alone might not be enough. In that case, a cab heater is a great option.
Side by sides in snow deserve a cab heater
If body heat alone isn't cutting it, there's a simple modification you can make to crank up the temperature inside your UTV. A cab heater is pretty self-explanatory—it works like the heater in your car. Although there is a variety available, it's important to make sure you buy a cab heater that's compatible with your vehicle. Find the cab heater for you here.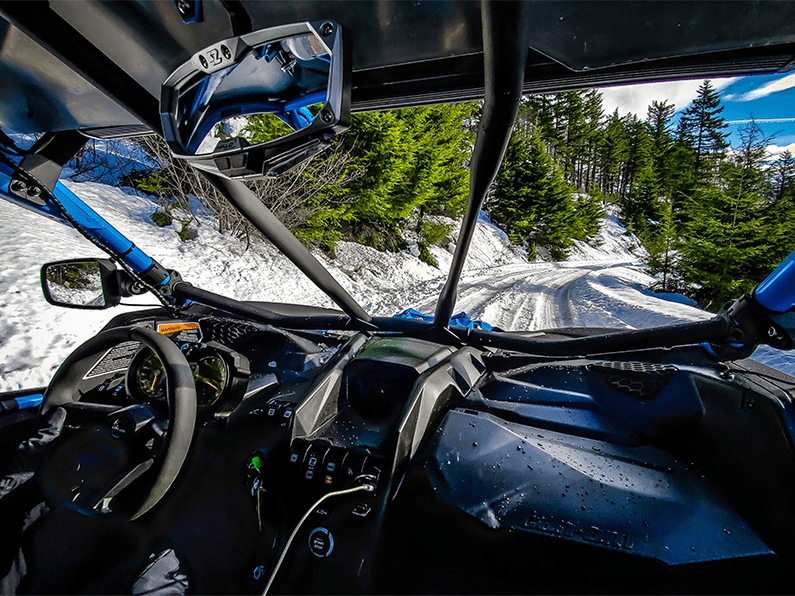 Tips for Safely Riding a UTV or ATV in snow
Let the engine warm up
A cold engine might not even start, but just because it turns over doesn't mean it's ready to rip at full speed. You could end up with what's called a cold-seized engine if you hit the throttle too hard—too early. The best ATV for snow is the one that starts. Unfortunately, starting an ATV engine in the cold is no picnic. Storing the vehicle in a heated space while not in use can help, or getting an engine block heater, as mentioned above, is a great option. No matter what, make sure you have the recommended antifreeze for your vehicle and don't be surprised if your UTV or ATV takes a sputtering start after being out in the cold.
Ride with a buddy
Remember the last scene of The Shining? Jack Nicholson out in the cold, all alone? Nobody wants to see that happen—much less think about it. Sometimes, the best thing you can do when seeing how good your ATV is in the snow is to bring some backup with you.
Have an emergency kit for people—and parts.
We don't love to think of worst-case scenarios all the time, but it's important you come prepared. Your engine could freeze up, you could run out of gas, or you could need to make an emergency call. You yourself can freeze up or run out of energy, too. It's crucial to keep tools on hand, possibly tents, a phone charger, and water for yourself as well. There are a ton of accessories for storage for ATVS and UTVs that can hold medical kits, tools, patch kits, and more. If you go out prepared, you can ride more confidently.
Pack a snack
Chances are, where you're riding isn't directly behind a Perkins or Waffle House. So, goodness forbid you do end up stuck, give yourself something for some energy. This will help you maintain your body temperature.
Stay alert
No matter how high your ATV or SxS rides, they're still smaller vehicles compared to the trucks, SUVs, and sedans out on the road. Keeping your head on a swivel for other motorists is essential. Rearview mirrors and side mirrors can be a big help.
Ride slow
We're all huge fans of going full-send at SBSS. However, that's only as long as you're not full-sending it into a tree or ditch. Start slow, get the right traction, and maintain a reasonable pace. Additionally, if you do find yourself skidding or sliding across ice or snow—think back to Driver's Ed: lay off of the brakes, and turn into the skid. This will prevent additional sliding and potential spinning.
BILLY'S PRO TIP: If you see a car that's spun out—your lighter weight ATV or UTV could be next. Know your surroundings, and take a hint!
Hook up a winch
Winter ATV and UTV riding is a blast—but you're certainly more likely to get stuck. If sheer willpower and elbow grease aren't getting you out, a winch sure as hell will! If your ATV can handle a little bit of snow, great. If it has trouble with more than 6" of snow, things can get dicey. Either way, a winch is one of the smartest investments you can make for winter riding. To install, you might need to get a winch mount first. EMP Winch Mounts are SBSS fan-favorites, and come in a variety of configurations. Once you've got the mount installed, pick a winch that offers enough power to pull you out of the snow.
Billy's Pick: The ultimate UTV and ATV snow accessory
For Billy's Pick, we're going with the best-of-the-best. Seen in James Bond, Inception, XXX and more, this has got to be the most badass upgrade for winter. Track systems just rule. You can turn a SxS or ATV into a tank, making issues with snow a thing of the past. If you want to learn more, find your vehicle in the list of Track System models, click, and watch the videos attached. It's really something special. Now that you know the best tips, tires, UTVs, and ATVs for winter riding and plowing snow, you're one step closer to your best winter yet. Don't forget to take photos, tag, SBSS on social media, and get connected! We always love to feature the best setups for UTVs and ATVs in snow, and can't wait to see what you get up to this winter!