For over a decade, XK-Glow has been driven by constant pursuit to produce high quality, innovative products for the motorcycle, automotive and entertainment lighting industry. Paving a road to success, they have earned a well-known reputation as one of the leading manufacturers and innovators of LED lighting products in the transportation industry. As the UTV industry exploded it was a no brainer for XK-Glow to get products rollin' for side by sides, underglow LED lights and LED whips are great add-on accessories and are very popular amongst the SxS community. It was no issue for XK-Glow to put out top quality lighting products, but what would separate them from the rest? To take it a step further than their competitors on the market, the R & D team at XK-Glow combined innovation and modern technology to design a product that takes LED lighting to the next level.
XKchrome
XKchrome is an advanced app that allows you to control your XK Glow LED lighting kits right from your phone. The innovative app-enabled light system will change the look of your night rides by casting dynamic light that highlights the beauty of your UTV with any color you choose. The feature filled app allows you to choose from 16 million vivid colors of light as well as syncing them with your camera, music and your vehicle's speed or acceleration. The app also features 15 hand-picked, fully-customizable animation themes, multiple zones (per controller) to simultaneously run different colors and patterns, a "find my vehicle" feature to help you find your way back to your rig as well as an option to sync the system with your brake lights for increased safety on the trails or dunes.
A CLOSER LOOK
In every LED lighting kit offered at Side By Side Stuff there is an XKchrome BLE 4.0 app controller. This controller is what links the LED lights to the mobile app. Each controller has two output zones that can be independently controlled within the app. Furthermore, up to 6 controllers (12 zones) can be connected to the app at the same time allowing you to get creative with multiple color schemes and effects. Choose any color with a single tap, XKchrome provides over 16 million vibrant colors built with 16 bit gamma correction.
The latest app update now provides a feature that seamlessly transit lights from one color to another; it also tunes your lights brighter as you move faster. So you can get the most out of your purchase, all new feature updates are totally FREE; all you have to do is use your imagination.
Smart Brake
One of the top concerns for UTV and ATV safety is brake light visibility during night riding. XKchrome BLE 4.0 app controller features an integrated Smart Brake sensor wire that allows the app to turn the entire LED whip or under glow kit into a brake light. XKchrome immediately switches all LED lights on in red as soon as you apply the brake increasing the visibility of your UTV or ATV and promoting faster reaction of the vehicle behind you.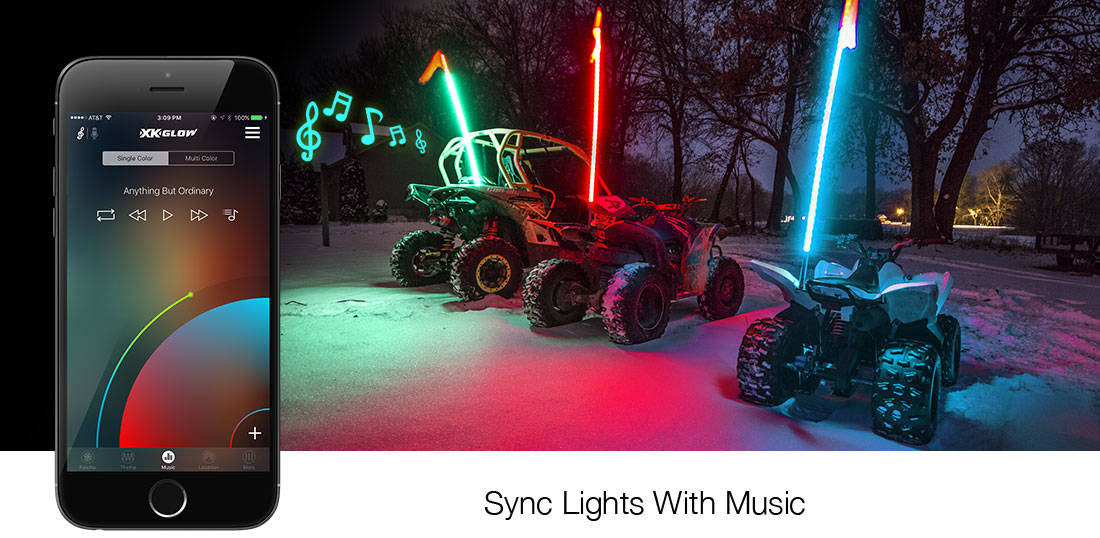 For many off-road enthusiasts music is a significant part of their riding experience. The mobile app includes a Music Sync feature that enables lights to "dance" with the rhythm of the song playing from your phone, or with any sounds that are picked up by the microphone. Furthermore, the app has an adaptive algorithm that dynamically adjusts the volume sensitivity to maximize visual effect.
Chameleon Feature
The mobile app also has a real time "chameleon" feature allowing you to light up your ride with any color you see. Whether it's stunning paint job or a bright tee shirt, you can point your phone's camera at a colored object and XKchrome instantly matches your LED lights to the very same eye-catching color.
The mobile app features over 15 hand-picked themes by XK-Glow's professional color designer to accommodate special occasions throughout the year. It even includes an "emergency pattern" in case you're stranded or parked at the side of the road in the dark. In addition, you can fully customize your own themes with up to 10 color combinations along with various patterns and speeds.
While it's not likely (unless you've put back one too many or are attending a busy UTV rally), we've all had that moment where we forget where we parked. Yeah, the guys at XK-Glow thought of that too. The XKchrome mobile app can help to locate your parked vehicle, thanks to its built-in Bluetooth Smart Beacon. After you park your vehicle and walk away, the XKchrome app automatically pins down your location. When you're in need to find the way back, you can easily look up your vehicle's location on the app. Once you get close enough to your vehicle you can turn on the lights, you'll now be able to single your rig out from an endless parking row.
Tech Specs:
iOS device compatibility: iPhone 4S or higher; iPad 3 or higher; iPad Mini or higher, iPod Touch 5th gen or higher.
Android device compatibility: Must be equipped with Bluetooth 4.0 (BLE) and Android 4.4 or higher version system.
Controller Max load: 3A per zone. (Each controller has 2 zones)
Light power consumption: 0.05A per pod. 0.15A per 12″ tube. 0.3A per 24″ tube.
Input votale: 9-15V DC.
Brake sensor input voltage: 12V.
Reversed polarity protection: Yes.
Transient voltage suppression: Yes.
Controller Dimension: 4″ x 2.33 x 0.73″ (100 x 60 x 19cm)
Applications: Universal for all motorcycles, ATV, snowmobiles with 12V DC.
XK-Glow Kits at SideBySideStuff.com
Kit includes:
1 XKchrome BLE 4.0 app controller
ON/OFF switch wire
1 LED whip
Detailed mounting instructions
Kit includes:
1 XKchrome BLE 4.0 app controller
ON/OFF switch wire.
2 LED whip.
Detailed mounting instructions
Kit includes:
1 XKchrome BLE 4.0 app controller
2 24″ LED tube.
10 12″ LED tube.
16 compact pods.
ON/OFF switch wire.
Kit includes:
1 XKchrome BLE 4.0 app controller
2 24″ LED tube.
14 12″ LED tube.
18 compact pods.
ON/OFF switch wire.
If you're looking for a simple addition that will make a major impact to your machine, XK-Glow is where it's at. Add some serious style to your ride; visit our XK-Glow brand page today.