Who doesn't love an organization with a mission to show special needs children that they are admired and appreciated? That is what the Arkansas Angels Benefit Ride is all about – building awareness while giving recognition.
Unfortunately, there are many disabilities inherited at birth or that manifest during childhood. Some of these afflictions cause physical handicaps while others are neurological. They may affect a child into adulthood, while others are terminal.
Common disabilities include autism, cancer, cerebral palsy, down syndrome, epilepsy and many more.
Get the 411 on one of our favorite charity events of the year: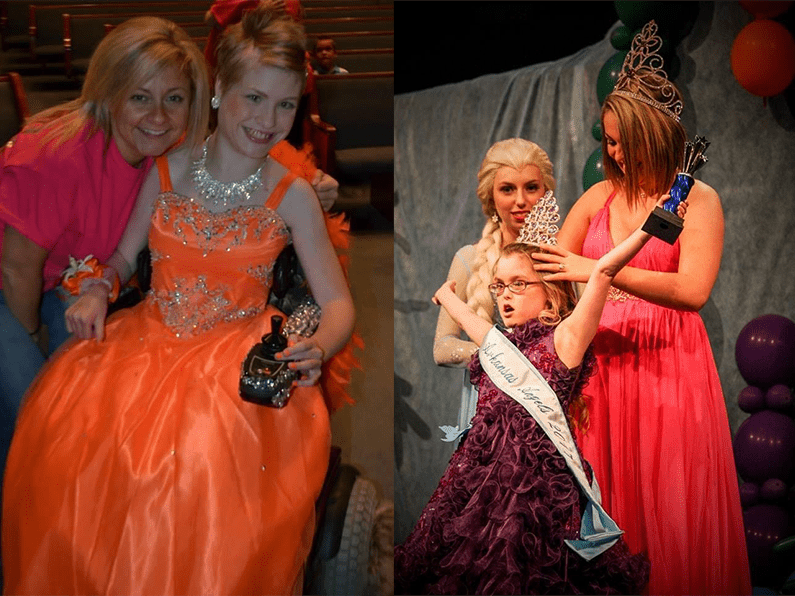 The Original Arkansas Angel
In 2010, a determined mom, BJ Thorn, was inspired to host a local beauty pageant for unique kids just like her daughter, Andrea. Andrea became the very first Arkansas Angel, starting a movement that would pave the way for other extraordinary individuals just like her.
Who would have thought that the event would attract over 120 participants from nine different states?
It takes a village
Amber Neumeier, a friend of founder BJ Thorn became the director in 2012. Mournfully, after Andrea's passing, BJ yielded the framework of the Angels to the Neumeier's. Andrea's legacy continues to change the lives of 100's of special needs youth and their families
Amber states "It's so important to us they all know they are fearfully and wonderfully made."
Amber and her husband James continue to run the Arkansas Angels program. Not only has the not-for-profit organization grown to host 30 pageants in multiple different states, it now provides financial support to families of special needs children.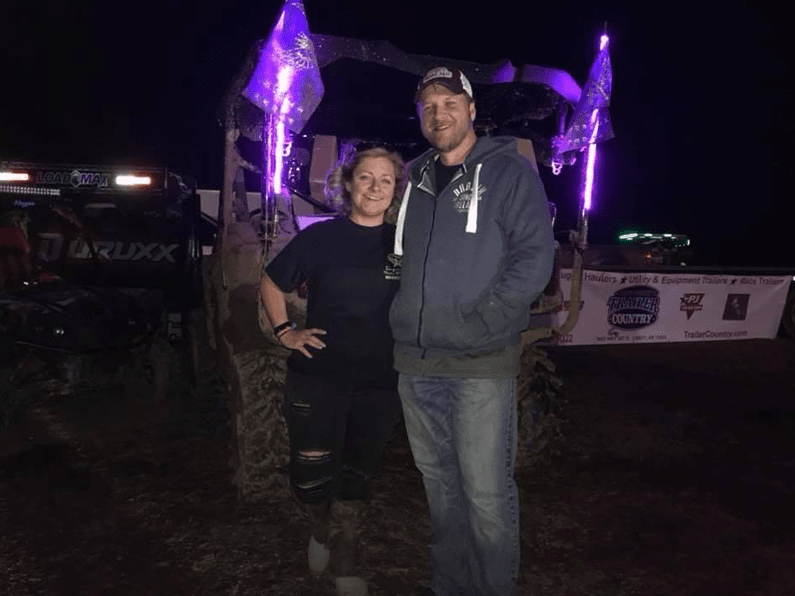 Arkansas Angels embark on new adventure
Some years in, James had the brilliant idea to expand the fundraising to support the Angels pageant, a totally free celebration for these special kids. Thus the Arkansas Angel Benefit Ride was born.
This first-ever charity ride took place at the notorious North Little Rock ATV / UTV Park in Arkansas. Twenty-five bucks got you hitting the trails and a hot dog lunch! Since then it has grown into a weekend-long shindig full of different activities. You may even run into some celebrities.
In early 2020, the COVID pandemic totally shut the country down, changing everything. The pageant of course had to be canceled but that wasn't the worst of it. Sadly, special needs families needed more support than ever, making this benefit ride even more crucial to the cause. Currently, this benefit ride is the Angel's largest fundraising event to provide necessary financial support and put on the Arkansas Angel Pageant.
The fundraiser for special needs families takes place October 6th through the 9th at the Hillarosa ATV Park, in Blevins, Arkansas. Hillarosa is widely known for deep mud holes, muddy trails, and water crossings. The kiddos have a blast!
Make no mistake, these precious littles DO have tons of fun. Pro and amateur riders take the families and children out to experience the excitement of trailing, first hand. It's all about showing these young people that they matter.
Legendary mud mayhem
Hillarosa is a major league when it comes to bounty holes. It makes perfect sense the Arkansas Angel charity ride would include the Blackwood China Hole Challenge. And, there are many other mud bogs to tackle through along the trails.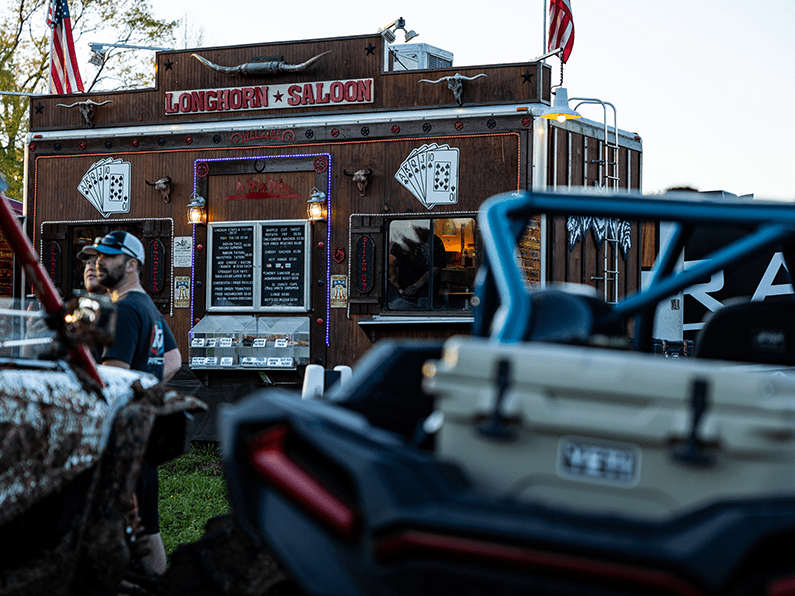 Fun, food, and celebrities
Though getting dirty is a huge part of the off-road event, there is much more fun to be had. There is live music, raffles, food, and a live auction. Not to mention, UFC Fighter Bryce "Thug Nasty" Mitchell, Rowdy Intentions, and Monsters of the South will be hanging out to celebrate these awesome kids too.
Weekend Activities
China Hole Challenge
Cornhole Tournament
Karaoke
Live Auction
Night Ride
Poker Run
Raffle
Benefit ride costs
The gate opens on October 6th at noon. Entry fees are $50 per person, covering all four days of the event. There are also primitive campsites available for $100. And, don't forget to bring extra dough for the auction and raffles.
100 percent of the proceeds go towards Angel families. Some of the funds will assist in putting the next pageant together. Then some of the resources pay for groceries, cancer treatments, hospital stays, medical supplies, and other financial needs these households may need.
How you can donate
Though grabbing your ticket for the charity ride will be a blast, if you can't make it, no problem! There are other ways to donate to the organization to show your support for these fantastic families.
Ways to give:
Cash App: $ArkansasAngels
PayPal:

[email protected]
Getting decked out with UTV parts and accessories before you go
Before taking your rig out for the mud-filled charity, it's important to deck out your machine with UTV parts and accessories first. Having aftermarket parts allows you to get the best off-road experience according to your ride demands.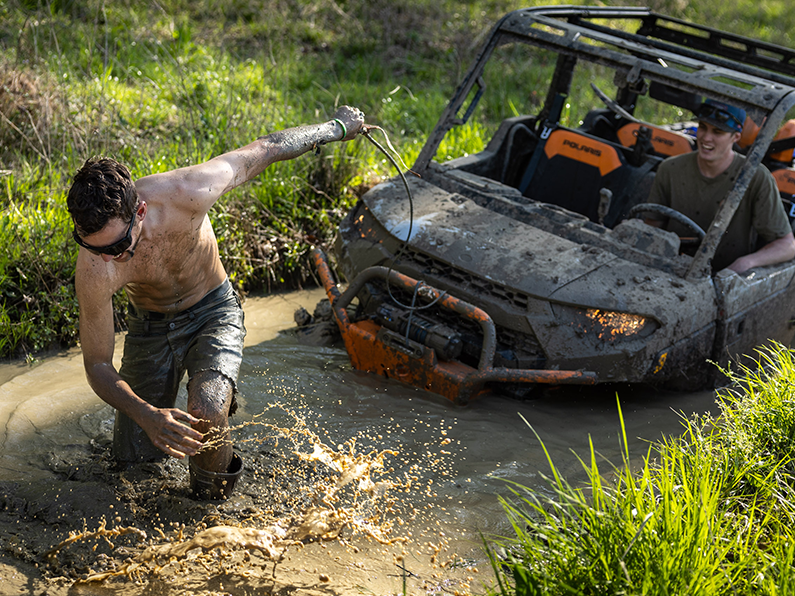 Winch: Don't leave home without it
Mudding is a blast but part of the fun includes getting stuck. If you are a full send kind of enthusiast, you can count on it. A winch is an excellent accessory to bail you out of a pickle should the situation arise.
Snorkel Kit: Go chin deep
Totally re-route the intake system using a quality UTV snorkel kit. This allows riders to travel through water crossings and deep mud pits without causing damage to vital components. Vent lines stay high and dry providing clean air to the engine while you trek chin deep.
High Lifter
Snorkel Your ATV
Mud Tire: Traction for action
Having the correct tread design is crucial to off-road success. Muddy scenarios require lugs that are deep and spread apart to improve grip. Mud tires will also paddle through water crossings and deep ruts.
EFX
High Lifter
ITP
System 3
Storage: #savethecooler
The rougher the ride the harder it is to keep your stuff secure. However, with upgraded storage racks or mountable coolers, you can keep everything you need anchored down for safekeeping.
LED light bar: Illuminate your night ride
One of the awesome activities the Arkansas Angel Ride puts on is a night ride. Though these adventures are a blast, safety is a virtue. A side by side LED light bar will brighten up the way while providing visual awareness to other adventurists.
Dragonfire
Pro Armor
Race Sport Lighting
Rigid
An industry that makes "stuff" happen
Amber Neumeier "Nobody will have your back like the off-road community."
Adventure and community are two words that describe the off-road industry to a tee. SBSS could not be prouder to be a part of such a compassionate community. The Arkansas Angels Benefit Ride is a perfect example of the powersports posse coming together to make "stuff" happen.
Stay in the now
Keeping up with the Kardashians? Pfft. Keep up with the off-road crew instead. Check out the Side By Side Stuff Upcoming Events page to stay up-to-date on the powersports experience.