Awesome Holiday Gifts for UTV Riders
Buying gifts for side by side enthusiasts, riders, and owners can be tough. What are you supposed to do—buy them a new Polaris? If you're not swimming in a Scrooge McDuck amount of extra coin, this gift guide will help you find the perfect gifts for the UTV riders in your life.
Billy's guide breaks down the best, most universal gifts available for over $100, under $100, and a bonus section of top-ranked stocking stuffers for SxS enthusiasts. You need to make sure you get the right gift; so we've put an extra-special emphasis on finding universal parts that can work across a variety of buggies.
Side by side gifts over $100
If you know the person on your list is a UTV fanatic and you want to give a gift they'll never forget, check out these easy, universal options below. High-quality parts and accessories can make all the difference to a seasoned rider, so make sure you get them a gift that will last!
Quad Boss 2500 lb Winch
Innovation, convenience, and durability. When you're buying gifts for UTV riders, these are the factors that matter most. And also what matters when a UTV rider uses a winch to get un-stuck from mud or swamp water. The 2500 pounds of pulling power means that whoever gets this gift will have to really try to get stuck. Quad Boss made sure this winch had it all with a water-resistant design and a one-year warranty to boot.
Features:
2-stage metal planetary gear system for fast line speed
Low electric current
Aluminum engagement lever
Automatic load-holding self-locking brake
Free spooling
Sealed and water resistant
¼ inch safety hook
Handlebar mounted switch
3Hp heavy-duty electric permanent magnetic motor
Rated line to pull 2500 lbs
One-year limited manufacturer's warranty
Shop Now
MTX Audio Universal Sound Bar
One of the reasons it's so tricky to buy gifts for side by side owners is all the different models, specifications, and different fitments. With a universal Bluetooth soundbar, you cover every base.
Four full-range speakers and two high-frequency tweeters make this MTX model one of Billy's top picks. Even if the UTV enthusiast you're buying for already has some sound system upgrades, this is still a great buy because its extra auxiliary port lets them plug in their subwoofers as well!
Features:
Mounting clamps fit bar diameters between 1.75 and 2 inches
Four full range speakers and two high-frequency tweeters
3.5mm auxiliary input for connecting devices
Auxiliary output for connecting external amp, subwoofer, or speakers
Includes power, ground, and accessory wire for easy installation
Shop Now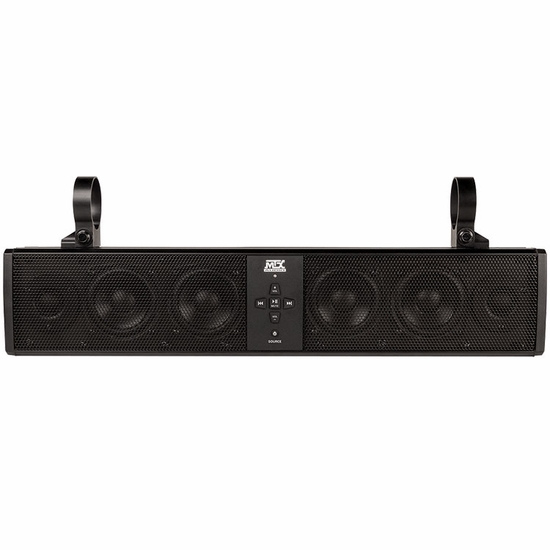 Dragonfire Four Foot Remote Control Whip
The best gifts for UTV riders have two things in common: they are thoughtful, and they are something a side by side enthusiast wouldn't buy for themselves. A practical, thoughtful pick for many riders is a light whip. Complete with a wireless remote and over a dozen color options, this gift helps keep riders more visible and safe at night and looks cool as hell, too.
Features:
4 foot universal fit
Remote controlled with easy to use, dedicated remote
Smokey colored housing
Constructed from clear polycarbonate tube that flexes and bends
Meets or exceeds government requirements for vehicle marking
Water-resistant (IP67)
5050 LED chip rated for 50,000 hours of use
300 automatic lighting patterns
Quick-release mount setup for easy removal
Includes an orange flag with DragonFire Racing® logo
Gifts for side by side riders under $100
If you're looking for a thoughtful gift for UTV riders that won't break the bank, Side By Side Stuff has you covered! Take a look at Billy's best of the best for under a hundred here.
MX Force MHM39 RAZ-V helmet
If you're getting a gift for a UTV rider, these helmets are perfect—and priced right too. The colorways look great next to any model, and the features it boasts are great too.
Unbelievably comfortable, this helmet's 17 air intake vents make it easy to stay cool when riding just about anywhere. The adjustable visor makes it easy to protect your eyes without a windshield, and it is customizable as well.
Features:
17 intake and 7 exhaust vents
Engineered shell with large peripheral visibility
EPS canalized liner features extensive ventilation
Moisture wicking, removable and washable liner
Hi-flow mouth vent and integrated roost guard
Adjustable visor design
ECE 22.05 / DOT approved
Shop Now
MX Force Nimbus Goggles
Clocking in well under $100, Billy's favorite MX Force goggles are a perfect choice for any side by side rider in your life. You can never have too many pairs! And, when fitted with an MX Force helmet, you get an incredible seal that still maintains ventilation and breathability. These are universal, though, so they work with just about any helmet out there. Perfect if you don't know the exact type of UTV your giftee uses.
Features:
Anti-fog lenses with UV protection
Outriggers provide even distribution of goggle pressure
Triple-layer face foam provides a luxurious feel against the face
Increased peripheral viewing
Adjustable woven strap with silicone grip for secure fit
Removable nose guard
Shop Now
UTV stocking stuffers
Sometimes, it's not the size of the gift that counts; give the side by side rider in your family something special with these apparel and accessory recommendations.
Bad Dawg Universal UTV Grab Handle
This heavy-duty nylon handle is universal, so you know that it will fit. On top of that, the pricing allows you to grab a couple and still not feel it in the bank account!
Sometimes, the gifts for side by side owners aren't just for them—they're also (kind of) for the friends and family who ride along! Order a set of grab bars today, and feel a little more secure on the trails. Who knows…they may even take the hint and slow down a bit (but probably not)!
Shop Now
Off-Road Vixens Clothing
The company was established in 2008 by outdoors-women who get their adrenaline fix with anything that moves fast on tricky terrain. They made it their mission to encourage other girls of all ages to find their inner grit and go full-send like the boys do!
This female-owned clothing line makes the perfect gifts for side by side enthusiasts who like casual, edgy clothes to show off their love for the sport. What better way to bring awareness than to add fashion to the mix this gift-giving season?
The best gifts for UTV riders
Tis' the season for rock crawling
Fa-la-la la-la-la- la la la
Buggie themed gifts we are hauling
Fa-la-la la-la-la- la la la
Give the gifts that riders deserve
Fa-la-la la-la-la- la la la
Use Billy's gift guide and skip the research
Fa-la-la la-la-la- la la laaaaaa
Don't waste your time stressing all day trying to see if that part will fit your buggy. Using this gift guide alongside our guide for hunters and riding in winter to score big with the side by side riders in your life this holiday season!
Shop Holiday Gifts