Four miles south of the small town of Waynoka, Oklahoma is Little Sahara State Park, home to over 1600 acres of sand. A great example of the many diverse terrains in Oklahoma, this sand covered recreational riding area is loaded with intertwining trails to rally and tall sand dunes climb.  Off-road enthusiasts from all over the nation load up their side by sides and travel far and long to conquer the vast sand dunes ranging anywhere from 25 to 75 feet. These dunes were created over 11,000 years ago, during the Pleistocene Age, The Cimarron River flowed across the area leaving terrace deposits, well-sorted quartz and remnants of prehistoric times.
There is plenty of action at the park, especially during event weekends, you'll find many types of off-road vehicles along with a great number of side by sides and UTVs that are all daring to participate in dune hopping and drag racing.  There are several events held at the park annually including Sandfest, Doing The Dunes, Spring and Fall Break and Rattlesnake Hunt which is by far their biggest annual event attracting thousands of people. Rattlesnake Hunt is based from Waynoka's Rattlesnake Round-up ritual, celebrated annually as a town festival in the area since the 1940s ranchers would get together to hunt the Western Diamondback Rattlesnake with the intent of protecting their cattle. The park can become very busy during these events, so if you plan on attending make sure you reserve your campsite in plenty of time.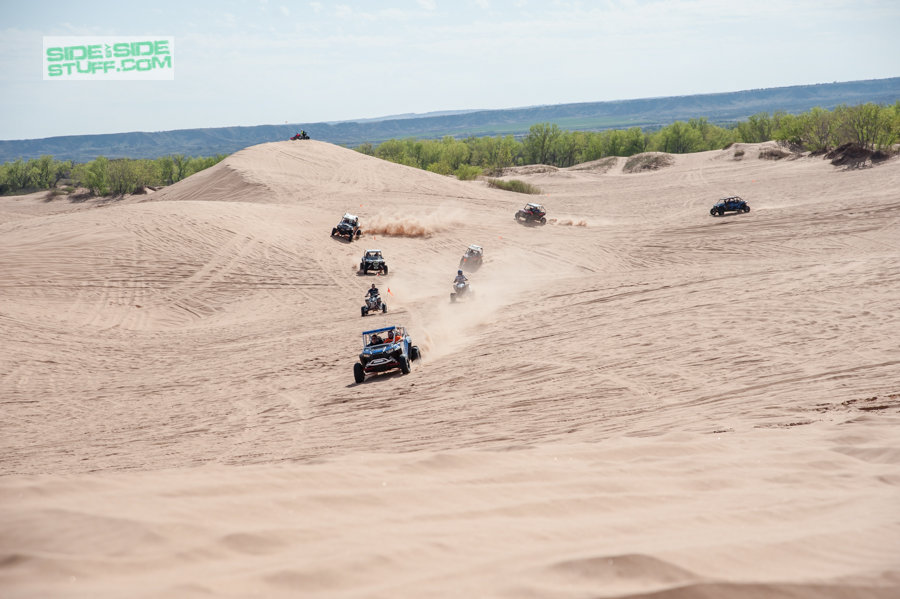 There are several locations for camping and lodging surrounding the park including Deuces Wild, Little Sahara Powersports and Sandrat Haven.  Little Sahara State Park does have their own selection of camping areas that include primitive camping and RV campsites with water and electric hookups available. There are some concrete padded sites and also 90 ft long sites available for those of you guys with big rigs. Fuel and groceries are available nearby, but concessions are available on most event weekends.  The fee to ride at the park is $10 per day and you must abide by the parks rules including requirements for roll cages, whips and flags. Safety is important and by following the rules you help reduce the number of riders being injured.
Little Sahara is definitely a riding area you want to add to your list, for more information check out duneguide.com It never hurts to be prepared for your next UTV adventure, visit www.SideBySideStuff.com for all your side by side parts and accessories.