Rattlesnake Hunt 2015
April 16-19
Little Sahara State Park
Waynoka, Oklahoma
Waynoka's annual Rattlesnake Round-Up began in the 1940s when ranchers in the area would try to rid the ranch land of rattlesnakes with the intent of protecting their cattle. Ranchers would get together and hunt the Western Diamondback Rattlesnakes once a year, starting a ritual that is now celebrated as a festival and attracts thousands of people to this small town with a population less than 1,000. The festival takes place in the downtown square of Waynoka, Oklahoma. The square fills up with vendors, shops, and carnival rides along with the festival's "Den of Death," where spectators get an entertaining show by skilled snake handlers. The festival closes with a ceremony where prizes are awarded for the captured snakes, which are judged on longest snake captured alive, most rattles on the end of a rattler and most pounds caught.
Without a doubt, Rattle Snake Hunt is the biggest weekend at Little Sahara State Park, located four miles south of Waynoka, Oklahoma. This annual event brings thousands of people to the sand dunes with a variety of off road rigs. Over 11,000 years ago, during the Pleistocene Age, the dunes were created by The Cimarron River which flowed across the area leaving terrace deposits and well-sorted quartz. Riders from all over the nation travel long and far to experience the parks 1,640 acres of ride-able sand with dunes ranging 25 to 75 feet.
Countless people showed up at this year's event to ride the dunes with a variety of side by sides and plenty of really neat custom rigs to check out. There was no shortage of entertainment for spectators; there was everything from drag racing to dune jumping and any skill-level of rider could participate. Safety is a big deal at the park. Roll cages, whips and flags are required and helmets are strongly recommended. Without knowing what's on the other side of the dunes, it's a good idea to ride in a group or with a partner. The dunes can be dangerous even if you're playing it safe. Having a spotter on the top of a dune to make sure both sides are clear before launching your rig is always a smart move.
Little Sahara Sandsports, a retail store and campground that backs up to the south side of the park, quickly became the hotspot outside the dunes with the presence of Polaris, Arctic Cat and other shops and vendors posting up, along with a 24 hour gas pump that literally got used all day and all night long. The Park is open 24 hours a day and when the sun went down, the side by sides got riled up! Night riding is really popular for the Side By Side crowd. The attendees were in for a real treat, seeing many rigs with LED Lights, variety color lighted whips and undercarriage lights standing out in the dark dunes!
Polaris brought their newest Ranger and RZR models to showcase along with a group of Fox Edition RZRs. Polaris was very busy taking groups out to the dunes to test drive the Fox Edition RZRs and gave away some freebees to all participants. Arctic Cat showcased the Wildcat 700 Sport all weekend. Jimmie O'Dell from Arctic Cat was kind enough to give us a walk through and show us around the Wildcat 700 Sport and talked about some of its great features and available accessories.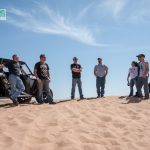 With several campgrounds and local lodging surrounding the park, the entire area quickly become packed with riders and rigs. The campground in itself was a great time because everyone was very friendly and hospitable. Interesting people from all over joined together and enjoyed each others company. It was a nonstop party throughout the night with fun contests and ridiculously loud stereos blasting music the entire time. Campgrounds have both primitive tent camping and RV sites available with water and electric hook up. Campsites fill up fast for the event weekend so be sure to reserve yours in plenty of time before making the trip.
All in all we had a great time. Thank you everyone for making it a fantastic event weekend. We are looking forward to going back!