UTV Takeover Oklahoma 2018
Little Sahara State Park
Waynoka, Oklahoma
October 3rd – 7th
With the recent expansion of the UTV Takeover events, we were excited to see them branch out to a riding area that was close to home for us. UTV Takeover began in the Oregon Sand Dunes at Coos Bay, since the success of their first several events founders Steve McCarthy Jr and Jim McIntire have pushed their agenda to branch UTV Takeover to other riding areas across the country; literally taking over as a go to event in the UTV community. Partnering with Duner Dudez, a local event promotions and riding group out of Oklahoma, UTV Takeover took over Little Sahara State Park in Waynoka, Oklahoma on October 3rd – 7th with a week full of awesome riding and a jampacked schedule of event activities.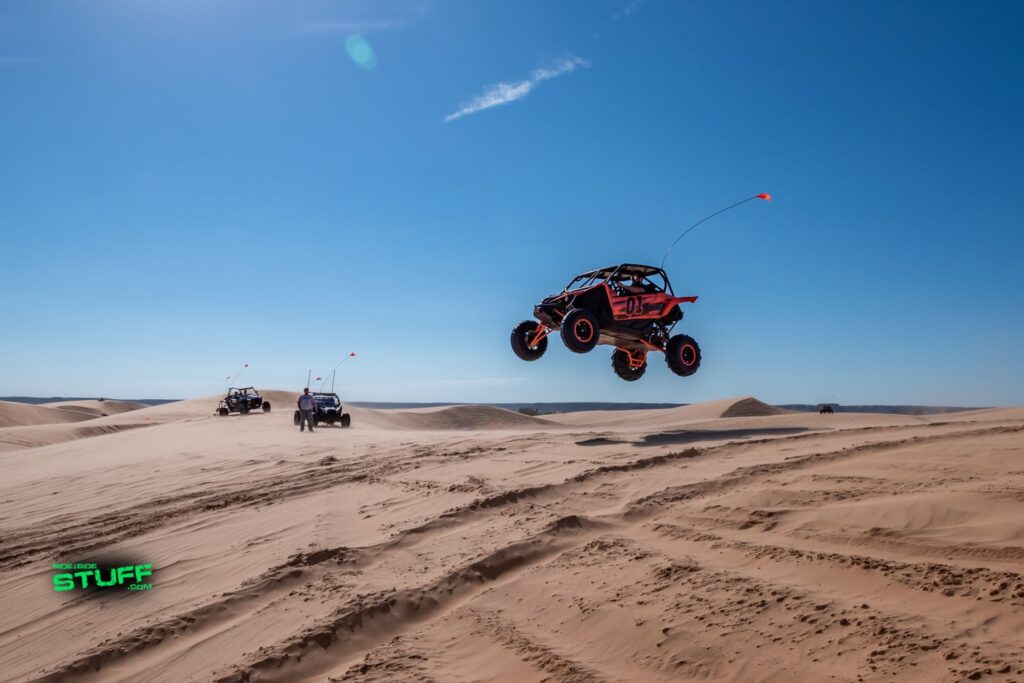 Thousands of off road enthusiasts ventured out to Little Sahara for the first annual event leaving every camp ground, motel and other lodgings in and around Waynoka nearly sold out. Despite a little indecisive weather, as most Midwesterns are already used to, the event turnout was still off the charts for the state park. Little Sahara's vast, 1,600 + acre riding area offers big thrills with an assortment of riding that features a variety of winding sand trails, whoops, sand bowls and sand dunes ranging from 25 to 75 feet high.
There was hardly any downtime for event attendees as UTV Takeover delivered on an abundance of event activities. From cornhole and bingo to group rides, races and several competitions there was always something to keep you busy and entertained. A couple of our favorite activities from the weekend include the Wheelie Competition and Huckfest, both events featured adrenaline pumping action with drivers giving it their all for a crowd pleasing show.
An important key to a great event is having a variety of vendors, UTV Takeover delivered on this as well as vendor row was jampacked with many booths including several aftermarket UTV parts manufacturers like Simpson Performance Products, Fuel Off-Road, MSA Offroad Wheels, EFX Tires, KMC Wheels, Super ATV and GMZ Race Products.
In the vendor area you could also find the UTV Takeover tent and mainstage where many of the event activities and entertainment took place, including Show-N-Shine competitions, raffles, a group campfire and several games.
Accompanying the mainstage was the Yamaha demo rides; Yamaha was on the scene with a fleet of YXZ 1000Rs for attendees to test drive. Another really cool activity in the vendor area was helicopter rides provided by Tulsa County Helicopter, for a great price you could get a lift in the air and fly over the dunes to see the action from above.
With all the games and raffles, there were tons of prizes given away but the biggest prize of the weekend was a new Polaris RZR RS1.
All in all UTV Takeover's first event in Oklahoma was a huge success; we had a ton of fun and encourage you to put the 2019 UTV Takeover Oklahoma on your calendar. We imagine this event will only grow in the coming years, so make sure to reserve your accommodations in plenty of time. UTV Takeover did a great job on listing lodging on their website for this year's event so be sure to check their website for next year's event dates and to line up your accommodations.
For more information on UTV Takeover events visit – utvtakeover.com
https://www.instagram.com/p/Boo8zmDhG2U/?taken-by=sidebysidestuff
https://www.instagram.com/p/Bom96xXhCHk/?taken-by=sidebysidestuff