For years now, we've been wanting to find a good event in Florida. It's been talked about here at the office many times but we never could pin point a solid event to hit. It wasn't until a Facebook post we made earlier this year, in the comments we noticed a couple friends of ours chatting about attending a big mud bog in Florida, so we looked it up. The event: Super Bog at Hog Waller Mud Bog and ATV park in Palatka. After viewing a few YouTube videos we knew this was it, so we joined our friends, Shane and Booger, along with their friend BJ, and their friend Wayne from High Lifter for Super Bog 2020.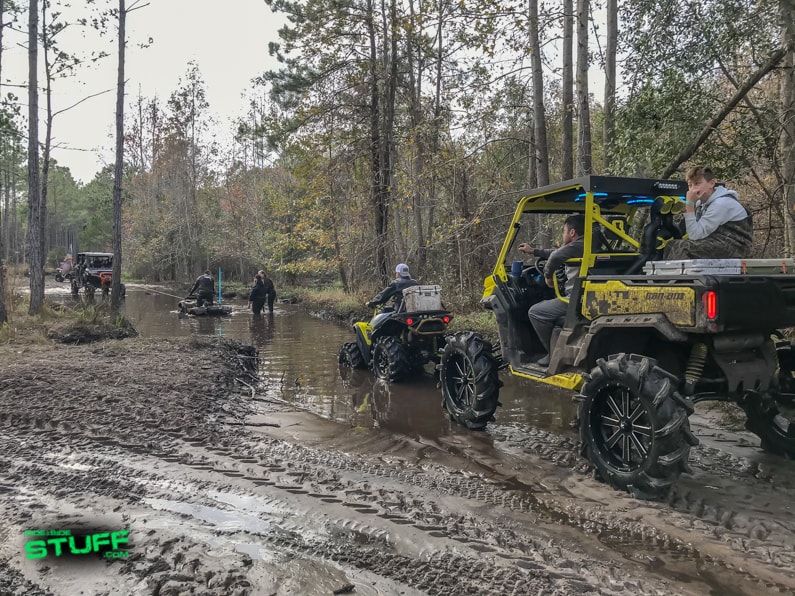 Like most UTV events, Super Bog was a full weekend of camping and riding; you can hit the trails as early as Thursday and as late as Sunday. The OHV park consists of 1,200 acres of riding for UTVs and ATVs and features tons of sandy trails to explore and waterholes to dip in. Side by sides with a big lift, large wheels, mud tires and portals were all too common at Hog Waller as many waterholes get pretty deep. If your SxS isn't build this way don't let it deter you from coming to Hog Waller, there's plenty of trails to accommodate every machine big or small.
What sets Super Bog apart from the rest is the huge mud pit area for trucks. Trucks aren't allowed on the OHV trails at Hog Waller but the massive mud pit offers them an outlet to have some fun in the mud and provide some awesome entertainment for spectators. From stock pickups and well-built off roaders to monster trucks and high horsepower mega mud trucks, anyone with a truck can take their turn in the pit; you'll even see some crazy custom builds. The pit was so much fun to watch, it's easy to see how Hog Waller draws in enthusiasts by the thousands for the Super Bog event.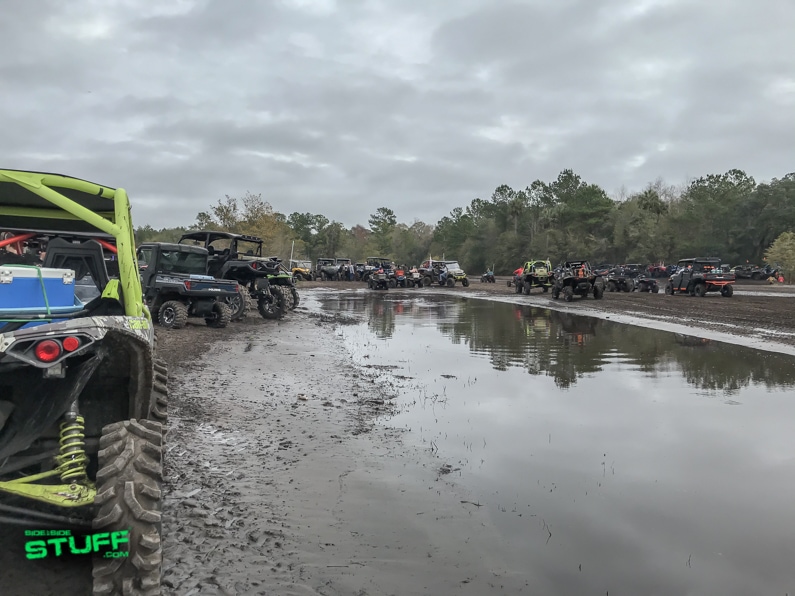 Out on the trails you can find three main hang out spots: RPM Alley, Gator Hole, and Tiger Hole. RPM Alley is the easiest of the three to find, it's an area that opens up wide from out of the woods. It features several water holes, tons of muddy spots to get stuck and plenty of room to group up with tons of other riders. RPM Alley is the biggest hang out spot on the trails and you'll always find large groups of riders spending time there and enjoying each other's company.
Tiger Hole and Gator Hole are also great hang out spots at Hog Waller, there isn't as much room as RPM Alley, but they have something else to offer. These water holes are deep! Without a lift, snorkels and waders we wouldn't chance it, many riders with big lifts still ended up neck deep in water! These spots are great to hang and watch everyone go deep or get wet yourself, what a ton of fun!
We had some fun in the Gator Hole when we tagged along with Shane and Booger. Their RZRs are built big, you may recognize them from our photos, on social media or at an event you've attended. Booger's RZR is the Riddler, Shane's is Superman; both purpose built for SEMA and are just a couple of the many awesome, monster side by sides built by Booger's Toxic Toys & G2 Customs. These big machines were ideal for deep bogging and are just straight up cool to cruise in! Thanks for the lift guys!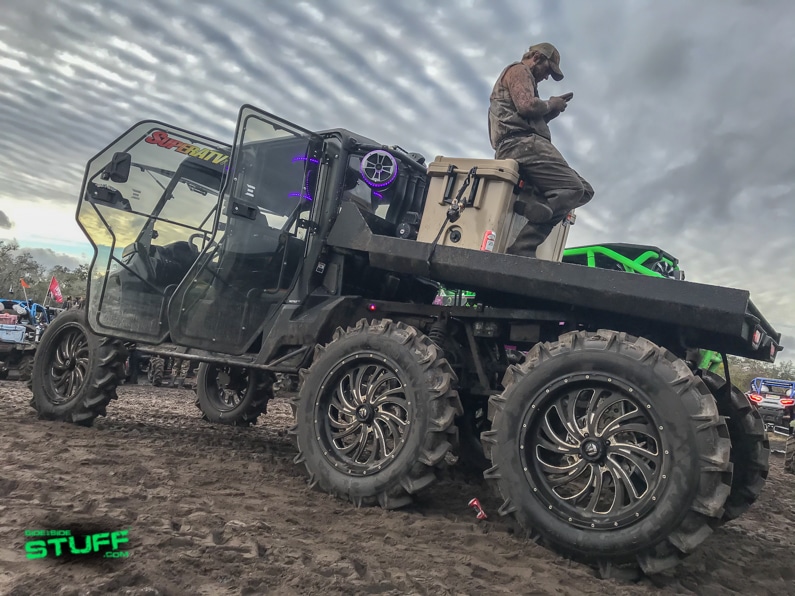 Our camp just happened to be next to a couple guys you may recognize from Instagram and YouTube, Mark Freeman #408 and King Boss Quad. Their crew was there with some nice Can-Ams including King Boss Quad's latest build a custom Can-Am Defender MAX 6×6.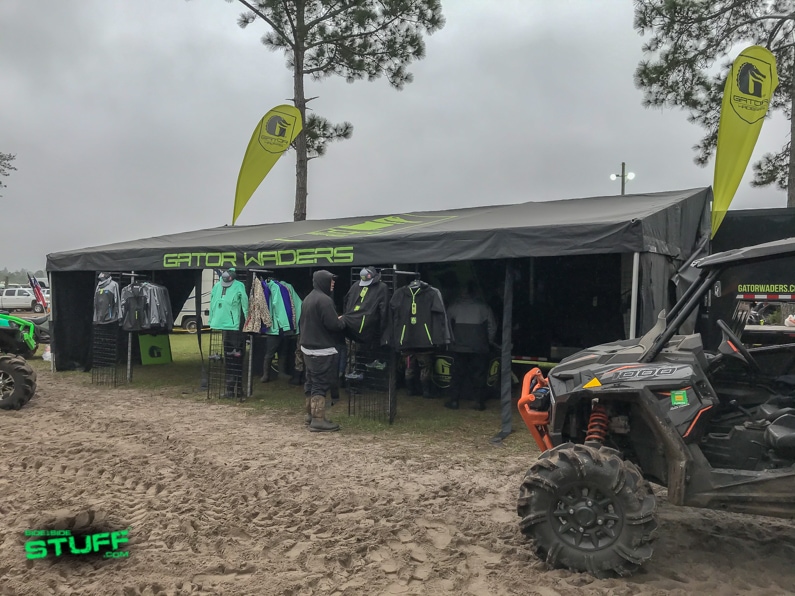 Hog Waller is a great place to spend the weekend, there's plenty room to camp and the park has some great features including a wash station, a shower house, a retail store and a food shack. There were also other food vendors on site for the variety. They weren't the only vendors either; for this event there were places to buy memorabilia and gear, Ride Now was on site if you needed a part or even a new machine, and of course aftermarket parts and accessory vendors like Gator Waders and AudioFormz were there too.
AudioFormz put on an audio competition on Friday, many UTVs entered competing for cash prizes. Some of these sound systems were over the top, and not just ear drum blowing loud but, with really cool customization you just don't see every day. The competition was a great moment to see some really cool machines with killer stereos gathered all in one spot.
All in all, Super Bog 2020 was a huge success. From exploring the Florida timber and terrain, to watching the big trucks and meeting some great people to ride with, Super Bog is an event everyone will enjoy. After a great weekend of riding, we'd recommend putting Hog Waller on your list of places to go; there are several events at Hog Waller throughout the year so be sure to check their website. One thing's for certain be on the look out for the Super Bog 2021 announcement and make plans to go, you might just catch us there!
For more info on Hog Waller Mud Bog and ATV visit – www.hogwallermudbog.com/